Stan Musial is "...an icon untarnished, a beloved pillar of the community, a gentleman you'd want your kids to emulate." President Barack Obama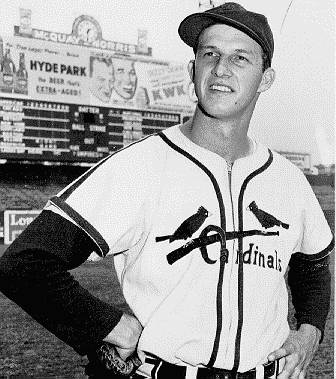 "How good was Stan Musial?" asked an eager reporter to Hall of Fame, and current broadcaster Vin Scully. "How good was Stan Musial?" Vin responded, "He was good enough to take your breath away." Coming from one of the greatest broadcasters of all time, this was a tremendous compliment. Although, many other breath-taking players came along during his playing career, Stan stood apart from the rest. Son of a Polish immigrant, Stan Musial grew up in Donora, Pennsylvania, and like a great deal of young men in the late 1930s, he had few opportunities for a bright future. Despite the economic effects of the Depression, Stan had his sights set on becoming a professional athlete. But his father thought differently; he had his sights set on college for his fifth son, Stanley. Then, at the age of 16, Stan received an offer to play professional baseball with the St. Louis Cardinals, a thriving and popular team. For Stan, making this choice was easy. Musial went on to play for the Cardinals for 22 years, taking a one year detour serving in the US Armed Forces. During his illustrious career, Musial earned seven batting titles, two MVPs, and the respect and admiration of all who knew him. Fans, players, coaches, and the media admired Stan for his persistence in overcoming diversity, his exemplary citizenship, and his service to his country. Stan "The Man" Musial became more than just a man on the field, but he lived with traits that a true hero should possess, honor, and an enduring commitment to his profession and his personal values. When faced with adversity, Stan consistently displayed himself as a man of character and served as a role model to all that knew him.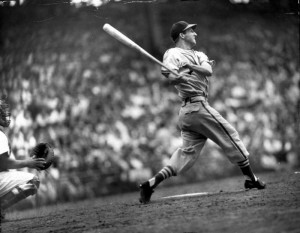 Growing up in rural Pennsylvania, Stan Musial constantly dreamed of becoming a professional baseball player and playing at Forbes Field in Pittsburgh. Although many obstacles stood in his way, he overcame them and succeeded. Stan's parents emigrated from Poland and came to the United States with a miniscule amount of money. Stan's father however, hoped his son Stan would go to college, and have a chance to succeed. But as biographer James N. Giglio states: "Despite his father's opposition, Musial signed a contract with the St. Louis Cardinals on 29 September 1937, nearly two years before he graduated from Donora High School. He began his professional baseball career in 1938 as a left-handed pitcher at Class D Williamson, West Virginia" (James N. Giglio). Even though Stan knew how much his education meant to his father, he stuck with his dream of playing professional baseball at Forbes Field. Although he grew up in an impoverished community, Stan did not let that affect him in the least. In fact, he used it as motivation to one day, accomplish his dream and be the person he always wanted to be. When Stan arrived in the Cardinal's minor league system, he arrived as a young flame throwing pitcher who suffered from nagging injuries most of his high school career. Unfortunately, Stan was: "Unaware of the seriousness of his injury, and the Cardinals elevated Musial to Class C ball in 1941 only to determine that he was 'damaged goods'. However, the manager of the Springfield, Missouri, Cardinals gave him a chance as an outfielder. Musial developed into the league's top hitter, batting .379 with 26 homers by mid-July. The Cardinals promoted him to Rochester, New York, one of their top farm teams, where he hit .326. Consequently, he came up for the Cardinals' final twelve games amid a heated pennant race with the Brooklyn Dodgers"(James N. Giglio). This opportunity gave Stan the second chance that saved his career. Stan possessed the determination to accomplish his lifelong dream, and he took the opportunity to perform at the highest level. Despite all of the hardships Stan had faced over his short lifetime, he finally reached the big leagues where he achieved instant success. There he stayed, in the majors, for 22 years, all with the St. Louis Cardinals. Even when Stan was told he should give up and not follow his dream, even by his own father, Stan stayed true to himself and his values.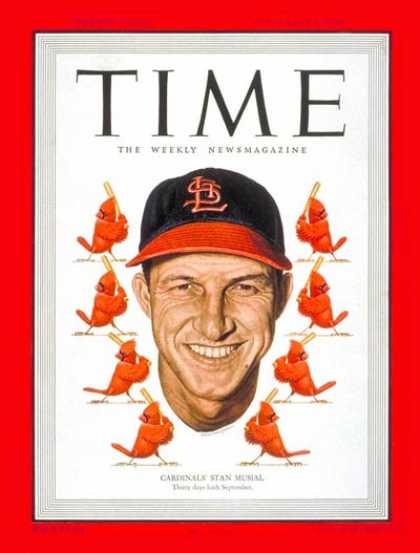 Stan Musial lived as the ideal model citizen when he played professional baseball. This was during a time of controversy, greed, and political strife. Each of these factors caused many men to abandon their true values to the point where, when they looked at themselves in the mirror, they did not recognize who they had become. But Stan Musial never had a moment like that; he always stayed true to himself and others while staying away from the off-the-field drama in which other players became entangled. The Salem Press summarizes his personality in a great way when they say: "Quiet and gentlemanly on and off the field, Stan Musial avoided the controversies that have often swirled around star players. Notoriously easy to sign, he was vastly underpaid for much of his career. To him, putting on a baseball uniform seemed a sufficient thrill. No one who ever saw the Cardinals' number 6 uncoil at the plate is likely to forget him" (Salem Press). As a result of his calm demeanor, Stan did not attract the media attention from the large markets. Instead, and to his benefit, he played the game he loved in a non-confrontational, stable, and friendly environment. During his 22 years with the St. Louis Cardinals, his loyalty, passion, and kindness shone as if it were a bright light in a dark cave. He always performed for the benefit of the team, playing wherever the team needed production. Stan wasn't just a hall of fame player, he was also a hall of fame person. James N. Giglio typifies Stan's good nature and exemplary attitude and actions in the following excerpt: "Of all the superstars of his era, none was more accommodating with the press and fans than Musial. Unlike Joe DiMaggio and Ted Williams, he rarely refused interviews, and he often went to great lengths to sign autographs. He was especially popular with opposing players because he was complimentary and learned the names of even the most marginal players. Never did he provoke an umpire enough to eject him from a game. Overall, Musial elevated the standards of performers who modeled themselves after him. His sunny disposition hid an intense competitive spirit" (James N. Giglio). During the fragile time period known as the 1950's, the powerful media influenced and shaped the opinions of Americans. Celebrities and athletes became big money makers for advertisers and media outlets. However, Stan Musial chose to stay on the course of hard work and determination while earning respect of baseball fans and the general public. Musial gained popularity, not by showmanship or fanfare, but through consistently demonstrating respect and fairness toward his teammates, opposing players, coaches and umpires, and the game of baseball. Stan Musial portrayed himself as a man of character and honor. He earned respect from everyone associated with the game of baseball due to his ongoing friendship with the media, fans, and players alike.
Professional baseball players, just as Stan Musial settled into the prime of his career, were being drafted into the U.S. Army to serve in World War II. And eventually, Stan joined them in the act of service: "Musial was drafted in 1945, joined the Navy, and served on a ship repair unit in Pearl Harbor, Hawaii. He played baseball every afternoon on a base team to entertain service personnel. Without Musial, the Cardinals faltered in 1945. Musial returned in 1946 and resumed his incredible hitting" (Encyclopedia of World Biography). When drafted, he did not put up a fight. He did not refuse to serve. For not one moment did he consider his baseball career to be over. Instead, he used his situation as an opportunity to improve. It is incredible to imagine the amount of effort it must have taken to come back to professional baseball better than when he had left after serving in a place like Pearl Harbor where there is barely enough room to even throw a baseball. Yet, he accomplished that feat. After he returned from the war, he continued serving, but in a different way. He continued to serve the entire St. Louis Cardinals organization as well as all of his loyal supporters. This quote from Stan is an excerpt from his Hall Of Fame induction speech in 1969: "After 22 years with the St. Louis Cardinals many people are certainly responsible for my success there. Of course, I'm particularly delighted to have the association of Gussie Busch, who owns the St. Louis Cardinals. A great civic leader, and he helped to build our new stadium in St. Louis. A good man for baseball and he's a great sportsman" (Stanley Frank Musial). The majority of famous athletes who are inducted into the hall of fame for their sport, focus their induction speeches on their own accomplishments, but not Stan "The Man". Stan, throughout his speech, rarely mentioned what he did as an individual, but instead, he acknowledged all of the people to whom he been loyal, and thanked the people who helped him there on a podium with a microphone, as a Major League Baseball Hall Of Fame inductee. Rarely is an owner of a sports franchise mentioned in an induction speech unless the owner has had a lasting impression on the athlete. This is how it was for Stan. Stan understood the mutual loyalty that existed between owner and player, player and fans, and of course with his teammates and family. To have the loyalty to a city and play there for 22 years has to be love. It has to be love for the fans who had given him so much. It has to be love for the team that kept him for those 22 years. It has to be love for the game of baseball.
Even in the face of adversity, Stan Musial never gave up on his dreams of becoming a professional athlete. Not only did Stan achieve his professional goals, he accomplished much more. He dedicated his life to serving the baseball profession as an ambassador to the game. He accomplished as much as any player on and off the field earning accolades and fans. All the while, Stan remained professional, honest, and respectful. Stan's persistence served him well as he overcame the many challenges he faced during his long and illustrious 22 year career. From humble beginnings to the big leagues, Stan turned obstacles into opportunities with his drive and determination. Throughout his trials and tribulations, Stan lived his life as a model citizen and was a role model for people around the world. He avoided controversy and garnered media attention for his accomplishments and positive influence on others. Stan displayed a lot of service and loyalty to the St. Louis Cardinals and also to our country by serving in the U.S. Navy during WWII. Even though Stan had a rough childhood where he didn't have many material possessions, he always dreamed with confidence about being a professional baseball player, a dream he eventually achieved. Stan serves as an inspiration to all because he put up all of the numbers and he put them up while being a great ambassador for the game of baseball. Musial never cared about pay while playing professional baseball. He simply took pride in putting on that number six jersey, feeling the stitching of the St. Louis Cardinals emblem on the front as he pulled it over his head and being grateful for having the privilege to take the field every day. In the words of Stan,: "I'm eternally grateful to the good years and the good health God gave me" (Stanley Frank Musial). Stan was as good as they come. He defied all odds time and time and again, served the United States when needed, and stayed loyal to the St. Louis Cardinals, all of his friends, and the fans of St. Louis. Stan accomplished all of this while staying true to himself and never getting caught in the web of controversy. Not only was Stan a breathtaking baseball player, he was a breathtaking human being.
Works Cited
STAN MUSIAL. Great Athletes (Salem Press) [serial online]. October 2001;:1805. Available from: Biography Reference Center, Ipswich, MA. Accessed March 21, 2012.
Musial, Stan (1920-)." Encyclopedia of World Biography. Detroit: Gale, 1998. Gale Biography In Context. Web. 21 Mar. 2012.
GIGLIO, JAMES N. "Stan Musial." Scribner Encyclopedia of American Lives, Thematic Series: The 1960s. Ed. William L. O'Neill and Kenneth T. Jackson. New York: Charles Scribner's Sons, 2002. Gale Biography In Context. Web. 26 Mar. 2012.
Musial, Stanley Frank. "Stanley Frank Musial - Induction Speech." BaseballHall.org. Web. 27 Mar. 2012.
Ellis, Robert P., and Ellis Robert P. "Stan Musial." Great Athletes (Salem Press) (2009): 1. Biography Reference Center. Web. 28 Mar. 2012.