Shaun White
by
Ryan from Mission Viejo
"What's really good is I'm riding really badly today. It's actually great because when I have a bad day it means I'm going to have a good day tomorrow." – Shaun White
I remember when I first became aware of Shaun White. I was watching the Winter X Games at my house. I remember watching all the other snowboarders and thinking, wow they are good. Then, all of the sudden this one snowboarder came on and right from the start I knew he was different than everybody else. The second he dropped into the half pipe I knew he was good. There was something about him that just caught my attention more than the other riders. What stood out about him was how much air he was getting, the tricks he was doing, and even the way he was dressed. Than I was watching the summer X Games, and who do you think was there? Shaun White was there and he was there because he was a professional skateboarder too. I think that is amazing that he is a professional snowboarder and skateboarder . What attracts me about him is his drive and determination toward the sports he does. He puts so much of his time into it and his results paid off.
Shaun White is a professional snowboarder and skateboarder who competes in competitions all over the world. For snowboarding he has competed in the Winter X Games, X Trail Big Air, Winter Dew Tour, and even the Winter Olympics. For skateboarding he competes at the Summer X Games. There is no formal education needed to be a snowboarder or a skateboarder but training is a key factor. The only two things that you can do are take lessons and keep practicing. Practice is very important when it comes to snowboarding and skateboarding. Repetition is also good because if you don't land a trick u have to keep trying. Repetition is also getting your practice. The average annual earnings for a professional snowboarder and skateboarder is $82,540. They earn this money for competing in competitions and also from their sponsors. Most professional athletes go into a job after they retire that has something to do with the sport they were in.
As a young person Shaun's mom first started him on skis. When Shaun was six years old he raced down the mountain without fear, so in an effort to slow him down his mom tried putting him on a snowboard. This did not slow him down at all, instead he went faster. His parents took notice of his snowboarding ability and took him to the mountains as often as they could. When he was seven years old he was entered into his first amateur contest. In this contest he won first place and because of this win he was entered as a wildcard into Nationals. In Nationals he was placed close to the top ten. When his parents started to see that Shaun could keep up with the others his mom made a home video and sent it in to Burton. They were very impressed and offered him a sponsorship deal at the age of seven. He turned pro at the age of 13 with Burton's help. He started winning more and more contests such as the Winter X Games. After all of this hard work and practice he made the USA Olympic snowboard team.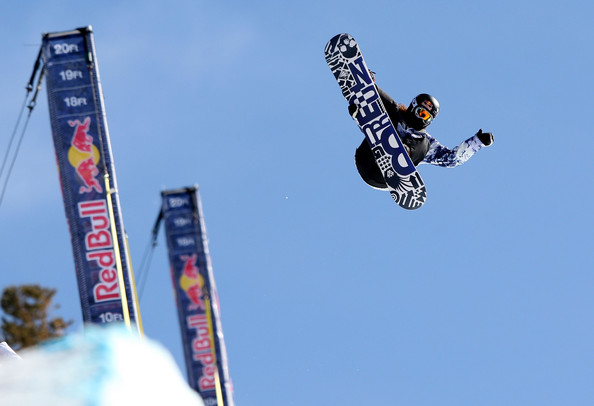 Shaun White contributes to society by competing in all of the competitions that he does. He does it all for the joy of the fans. He loves his fans and tries to do the best he can for their enjoyment. He also gives back to a lot of foundations too. He supports Summit on the Summit, Heartgift, Tony Hawk Foundation, Make-A-Wish Foundation and also frequently stops by the Target House.
In order to be where Shaun is now, there are a bunch of steps for me to take before I get there. The first step is to graduate high school just like he did. Then the second step is to attend and graduate college. Right now Shaun is attending California State University so it still shows that even though he is very successful, graduating college is still in his future. The third step is to keep practicing and always have a positive attitude. Practice is a key component in becoming a snowboarder. Two other things I could do are take lessons, and work at a ski resort so that I can get some practice. After all of this I hope I can be just like him.
Page created on 5/10/2010 12:00:00 AM
Last edited 5/10/2010 12:00:00 AM
The beliefs, viewpoints and opinions expressed in this hero submission on the website are those of the author and do not necessarily reflect the beliefs, viewpoints and opinions of The MY HERO Project and its staff.
Related Links