Serena Williams
by
Emily from Saipan
"All my life I've kind of dreamed of being the best, and doing the best, and it hasn't always been easy for me. So I've been trying, but it's really special to have come such a long way and its really fulfilling. And the fact that I'm just making history right now and the fact that I was able to win four in a row, it doesn't happen everyday." This quote by Serena Williams shows what kind of person she really is. This shows that she is definitely very athletic, determined, and accomplished and that is why Serena Williams is my hero.
Serena Williams is my hero because she is very athletic. Even before she was born, her parents envisioned their daughters as champions. Her dad taught himself and his wife how to play tennis so they could teach their daughters how to play. At age 4 and a half, Serena Williams entered her first tournament. Her father says that over the next five years she won 46 of the next 94 tournaments she entered. In Southern California, both Serena, and her older sister Venus, were ranked number one in their age groups, and they did really well in the really competitive preteen circuit. Before they turned teenagers, they had received attention way past just their home state. All in all, Serena Williams is clearly a very athletic person.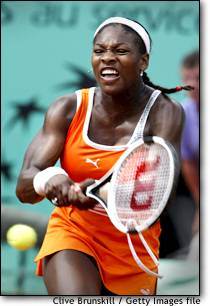 One trait that makes someone a hero is that they are determined, and that is why Serena Williams is my hero. In 2000 and in 2001, Serena had a series of injuries that made her lose a lot of matches and forced her to drop out of several tournaments. But after she recovered, Williams was unstoppable in 2002. She won 8 out of 11 tournaments she entered, winning $4 million in prize money. In the NASDAQ-100 Open in Miami, Florida, Serena beat the top three players in the world. She joined Steffi Graf in history as the only people to beat the three top ranked players in the world in one tournament. Doing all of that, after a lot of injuries and dropping out of tournaments clearly shows that she is determined.
Out of all the things that could make Serena Williams a very great hero, she is my hero because she is very accomplished. Because of all her hard work as a young child, in 1995 she became a pro when she was only 14 years old. In 1997, it was Serena's first year as a Women's Tennis Association (WTA) competitor; However, Venus outshined her. When she joined the Ameritech Cup, she shocked everyone by beating the 7th ranked and the 4th ranked players in the world and became the 99th ranked women in the world when she was only 16. In 1999 her singles victory at the U.S. Open made her only the 2nd black women ever to win a Grand Slam title. In 2002, she won the French Open and Wimbledon. In 2003 she won the Australian Open and Wimbledon again. With all the other things that could make Serena a true hero, I believe the fact that she is accomplished is why she is a truly hero to me.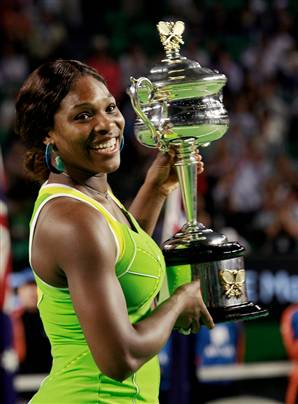 Three traits that define what a hero is to me are athleticism, determination, and being accomplished and those traits clearly describe Serena Williams. Serena Williams is my hero because I love to play tennis and one day I hope to be as good as her. Serena Williams is a very outstanding person and nobody else could've come as close to the title of my hero as her.
Page created on 5/16/2011 12:00:00 AM
Last edited 1/7/2017 12:01:46 AM
The beliefs, viewpoints and opinions expressed in this hero submission on the website are those of the author and do not necessarily reflect the beliefs, viewpoints and opinions of The MY HERO Project and its staff.