Sacagewa
by
Ashley from Ontario
Sacagawea was born in around 1790 to a Shoshoni tribe in what is now Idaho. When Sacagawea was 12 years old the Hidatsa tribe (Another Indian tribe) captured her, and later she was sold to a French Trapper named Charbonneau. He married her and they lived near the Missouri River, in an area which is now North Dakota.
In 1804 the president of the United States, Thomas Jefferson asked Lewis and Clark, two famous explorers to travel around the unknown Northwest. Their voyage would take them all the way to the Pacific Ocean. On their way they met Sacagawea and requested she be their guide. While she was leading Lewis and Clark's expedition she was pregnant, and gave birth to a baby boy. The boy was named Jean Baptiste, or Pomp or Pompey by Clark.
Sacagawea brought her husband and her baby boy which she carried on her back. After four months when the journey had reached the edge of the Missouri River, Lewis set out to meet with a Shoshone native tribe, from whom he hoped to get horses for their trek over the mountains. When Sacagawea arrived to be the interpreter, she found that the leader of the tribe was her older brother Cameahwait who took over after her father died. She might have taken the opportunity to return to her people, but instead she honoured her commitment and decided to continue to help the explorers on their journey to the Pacific.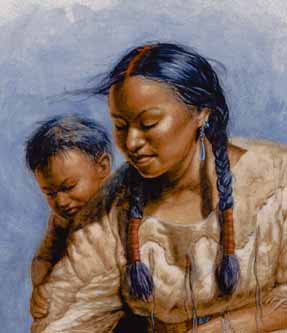 On the return journey, Sacagawea and her husband left Lewis and Clark at a Hidatsa village on the upper Missouri. After this the historical record of their lives is not completely known or accurate. Some say that Sacagawea, her son and her husband Charbonneau traveled to St. Louis at the invite of Clark, who was fond of little Pompey and hoped that they would settle there. However, after a little while Charbonneau went back to trapping, leaving his son with Clark. Others say that Sacagawea decided to rejoin The Shoshone Tribe on their Wind River Reservation and died there in 1884.
I chose Sacagawea as my Hero because I think that she was a very courageous and strong woman to be able to give birth and travel in very difficult and hard conditions with a small child. She kept her word and continued to lead Lewis and Clark when it would have probably been easier to stay with her brother and his tribe. I think she is a positive role model for women today and she inspires me to work hard and achieve great things.
Page created on 5/7/2007 12:00:00 AM
Last edited 5/7/2007 12:00:00 AM
The beliefs, viewpoints and opinions expressed in this hero submission on the website are those of the author and do not necessarily reflect the beliefs, viewpoints and opinions of The MY HERO Project and its staff.