Andrei Sakharov became an influential voice in the shadow of the Russian government. Not only did he openly question the government's handling of nuclear testing, he stood up for thousands of people who suffered from the effects of nuclear fallout. He was awarded the Nobel Peace Prize, fasted for what he believed in, led a civil rights group, and was a voice that could not be silenced even through exile.
Born in Moscow on May 21, 1921, Andrei Sakharov was the son of a physicist and his wife. His father, Dmitri Sakharov, influenced Andrei not to believe in God as well as to learn physics. It was this early exposure to physics that would get Sakharov into the Moscow University. He diligently studied physics and did well in his classes. Soon he met his wife, Klavidia Vikhireva, in a lab and they got married shortly after in 1943. After he got married, Sakharov returned to Moscow to graduate from 'FIAN' (Physics Institute of the USSR Academy of Sciences).
In 1946, Sakharov was invited to work on a top secret project for the Russian government. This was to challenge the US atom bomb. In the 'heat' of the Cold War, Russia began researching how to match up against the US atom bomb. Stuck in the middle of this race was Andrei Sakharov and his other FIAN graduates. Unfortunately for Sakharov, this sacrifice would include moving to a secret installation, as well as leaving his wife behind. Yet after 20 years of hard work, Sakharov's model was used to create and test the Tsar Bomb on October 30, 1961 (the most powerful bomb exploded to date). It was after seeing the destruction and the death caused by the Tsar Bomb that Sakharov began to question what he was doing.
The year of 1962 Andrei Sakharov became a dominant voice in the physics community. He began to speak out against more nuclear bomb tests and was quoted once saying,
"A terrible crime had been committed, and I couldn't prevent it! A feeling of impotence, unbearable bitterness, shame and humiliation overcame me. I dropped my face on the table and wept. This was probably the most terrible lesson of my life: you can't sit on two chairs."
Continuing with this passion, he influenced the Moscow Treaty in 1963, which forced all nuclear tests to be made underground. As Sakharov became older, he concentrated his focus more on society and life around him. He published a manuscript called "Reflections on Progress, Peaceful Coexistence, and Intellectual Freedom." This manuscript pounded at the USSR for their oppression of the people and carelessness concerning nuclear weapon testing. His manuscript enraged the government and raised political awareness. He was forced to go into exile, as well as no longer work with the military.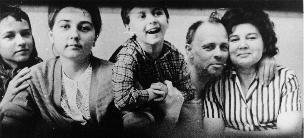 He gradually began to be recognized for his heroic actions by the global community. Finally, it was in 1975 that he was awarded the Nobel Peace Prize. Unfortunately, he was not allowed out of the country, yet his wife was given permission to leave and accept the prize. Sakharov also would do hunger strikes while in 'captivity' allowing him to be heard by the public. Finally, in 1986 Sakharov was released from captivity and in 1989 he was elected into parliament. On the day of his death on December 14, 1989, the Communist Party gave up control of the government and control was given to the Democratic Party.
I personally was stunned by Sakharov's strength and passion about a subject that could get him killed. Not only did Sakharov stand up between the US and the USSR, but he helped make a diplomatic decision between the two. This man also stood up for those that could not be heard, those who suffered from the nuclear fallout. Next, the strength shown by this man even to death is immeasurable as the government he once worked for became his enemy. I believe Andrei Sakharov is a notable person in our history and a person who singlehandedly changed the future for thousands of people, including me.
Page created on 5/15/2006 1:40:53 PM
Last edited 4/23/2019 5:55:46 PM
Related Links
Andrei Sakharov
- -- A website providing images and important facts about Sakharov's life
Sakharov
- -- A descriptive website highlighting the major events in Andrei Sakharov's life