Adam Sandler
by
Jorge from Tampico
A hero is not just a person who saves lives, a hero can also be a person who simply likes to help others and respects them. A hero tries to do and give his very best. Consequently, heroes have to be respected because since they have helped us, we need to care about them and their causes as well. A hero can be found anywhere in the world. People can be heroes simply in the way they live their lives and we need to be proud of them. If a hero is famous, that's fine, but if not, it really doesn't matter. Heroes are simply people that we admire, or people that we feel something towards as a result of the things they do. Everyone has a hero. Maybe even a a made-up one--- but still, they are our heroes --- so don't laugh if you someone tells you about their heroes. Just respect them for having one.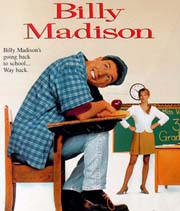 My hero is a person who cares about others. Adam Sandler is a person who has saved many people from desperation simply, by making us laugh. He makes us enjoy our life because he makes us smile. Adam Sandler is a person who spends his life working hard to make his audiences laugh. He does not work for money. He works to make a person smile in the world. Adam Sandler may be famous but he thinks his life is the best life a normal person can live. He is a person that does not focus only on material things, but instead he thinks the most important thing in life are the people around you. I know that Adam Sandler will be remembered throughout the ages because of his good actions.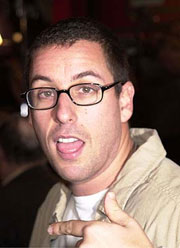 Adam Sandler was born on September 9, 1966 in Brooklyn, New York. He has seven brothers. He was always the class clown in school. When Adam Sandler turned 17 years old, at the advice of his brother he tried out for a comedy club. That's how he came to recognize his true talent as a comedian. He started acting in the Cosby Show and then went on to movies. Adam Sandler has starred in many comedy movies like Billy Madison, Happy Gilmore, Big Daddy, and many more including the ones that he has had smaller roles in, like Hot Chick. One of Adam Sandler's first movies was Billy Madison.
Adam Sandler is a very funny man who has been making comedy since his teens.
Adam Sandler is my hero because when I have had difficult times, such as when my parents separated, I watched his movies to help me bring a smile back to my face. Adam Sandler saved me from my emotional desperation. He taught me not to surrender. In my life, transmitting that very message from his movies has been highly important. With him as my key I was able to unlock another world, a happier land. Adam Sandler makes a lot of movies that I have watched at times when I have been depressed. One of those in particular was Happy Gilmore. Watching that movie changed my way of looking at life. I don't know what I would have done without Adam Sandler in this world.
Page created on 2/17/2013 7:14:39 PM
Last edited 2/17/2013 7:14:39 PM
The beliefs, viewpoints and opinions expressed in this hero submission on the website are those of the author and do not necessarily reflect the beliefs, viewpoints and opinions of The MY HERO Project and its staff.