Scott Zabelski found T-shirts were a perfect fit for hurricane Sandy relief
by David Karas
Contributor of The Christian Science Monitor

He created and sold 'Restore the Shore' T-shirts and hooded sweatshirts – and raised more than half a million dollars for hurricane recovery efforts.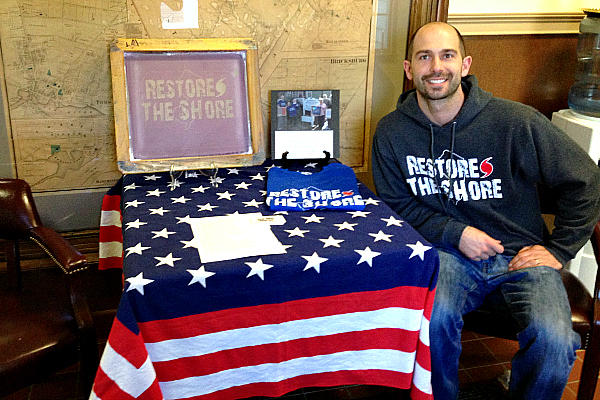 David Karas
TOMS RIVER, N.J.

News reports showed audiences around the United States and the world how hurricane Sandy had caused unprecedented devastation along New Jersey's coastline.
But when New Jersey native Scott Zabelski saw it for his own eyes, the destruction became more real, and more personal.

He "looked around and saw things I would never have expected to see," he says. "That's when it was the most heartbreaking and devastating."

Mr. Zabelski is a resident of Toms River, N.J., just a short drive from a portion of the coast that received significant damage in the October 2012 hurricane. During his visit to a nearby barrier island, where he had spent time growing up and visiting friends, he couldn't help but think that most of the places he remembers would be forever changed.

In the hours following the storm, Zabelski wanted to find a way to help.

The owner of Blue Wave Printing, a screen-printing company, Zabelski was tossing around ideas when his father suggested creating a T-shirt. Scott dreamed up the motto "Restore the Shore," and quickly printed a handful to share with friends and family.

"Once I saw people's reactions, then it kind of hit me," he says.

Zabelski decided to create and sell T-shirts and hooded sweatshirts with "Restore the Shore" and donate part of the proceeds to hurricane recovery and relief.

The first day of sales was a much greater success than he had ever imagined. By the end of the day, he was able to spend $1,200 in donations to buy gift cards for those impacted by the storm.

He printed more shirts through the night, and sales boomed the next day as well – allowing him to raise $5,000 in donations.

"The biggest thing that we did differently from anyone else," he says, "is that we really gave a significant portion of the [money away]." Zabelski set his prices so that they would cover his expenses, with the rest going to charity.

The idea rapidly blossomed and demand grew, he says, enough so that he decided to shut down his screen-printing business for six months to handle the T-shirt orders and continue to raise as much for hurricane recovery as possible.

His business went from a staff of three to 21 – a number that included family members and friends, as well as some victims of the storm who had lost their homes.

"I hired my mom, I hired my brother, I hired friends from my beach area," he says. "These are all, like, my buddies.

As the sales piled up, Zabelski researched what help was needed where and then helped fill that need – whether it was for chopped wood, portable restroom facilities, equipment for first responders and law enforcement officials, or gift cards for displaced families.

The recovery process was personal for Zabelski, whose parents' home sustained a great deal of damage. While his own home was relatively untouched, he saw the rigors of the recovery process through his parents' eyes – and turned that knowledge into finding ways to help.

"I could see all the challenges the people on the island and in Toms River were going to face through what my parents were facing," he says.

Whether it was selling shirts and hoodies from his storefront, or at makeshift stands in parking lots that he announced on Facebook, Zabelski spent months producing more T-shirts and selling them throughout the region.

And the donations continued to climb – in the end surpassing $517,000.

"It was totally overwhelming," he says. "It took over my whole life."

Zabelski has since returned to his normal printing business, but the adventure is one he will never forget.

"It was just totally mind-blowing," he says. "I feel lucky that I was able to make a little bit of a difference, the way I knew was needed. I feel lucky that I could be the one to see what was missing and provide that need."

Zabelski attributes some of the movement's success to his fundraising and distribution model, which took into consideration the skepticism some people have about donating to causes. He wanted to make sure people knew exactly how much of the sale price would be donated and where that donation would go – and that the funds would be put to use immediately.

"We showed people where the money was going," he says. "We used Facebook to post every time we purchased something and gave it away. People could literally see, that moment, where the money went and who it was given to."
Page created on 6/20/2013 12:00:00 AM
Last edited 1/5/2017 8:17:05 PM
The beliefs, viewpoints and opinions expressed in this hero submission on the website are those of the author and do not necessarily reflect the beliefs, viewpoints and opinions of The MY HERO Project and its staff.