What is a food bank?
A food bank is, in simple words, a place where food is stored to be offered to the needy for free, or for a very small fee, or sometimes in exchange for volunteer work.
Typically a food bank stores the food -- which has been donated by supermarkets or companies oftentimes because it is otherwise unsaleable (thanks to minor bruising, dents, etc), and the general public, or government programs, etc. -- and then offers it to nonprofit agencies who distribute the food within local communities.
In other words, a food bank (with some exceptions) serves as a wholesaler in a sense, stocking food which in many cases would have otherwise been prematurely discarded, and making sure it gets to its various distribution points. Just as a person stores money in the bank until it is to be used, a food bank stores food for those in need.
The concept of food banking is rather simple, and yet its impact is revolutionary.
A Brief History of Food Banks
Food banking is working proof that the actions of one caring individual can lead to extraordinary things.
John van Hengel, a retired businessman and soup kitchen volunteer in Phoenix, Arizona, worked to get food donations for the kitchen, and ended up with more food than they could use or even store.
In speaking to one of his local donors about it, he was told that food discarded by local grocery stores was also often in near-perfect condition, and that instead of being thrown away, should be stored for those in need.
His interest sparked and his heart moved, Van Hengel worked fervently to request unwanted or unsaleable food from local gardens, produce farms, and grocery stores. The donations started pouring in, and Van Hengel arranged a large warehouse where it could all be stored and then distributed to local charities helping Phoenix's needy. He called his warehouse the St. Mary's Food Bank... the first of its kind in 1967.
Van Hengel's concept grew quickly, and in 1976 the federal government gave his food bank a grant to help develop similar food banks nationwide.
The actions of one man had initiated a movement that would eventually grow into a national network of hundreds of food banks distributing literally billions of tons of food each year.
America's Second Harvest
America's Second Harvest is the largest food bank network in the United States, serving all 50 states and Puerto Rico, by distributing food and grocery products to over 200 food-rescue organizations and member food banks.
Founded in 1979, America's Second Harvest was considered the "clearinghouse" for large food and product donations from national corporations. Today, America�s Second Harvest secures and distributes two BILLION pounds of food each year and serves EVERY county in the U.S.
Food banks which are members benefit greatly by working through America�s Second Harvest, as do the community groups which receive food from these local banks, and even generous donors.
Typically local groups such as soup kitchens and homeless pantries feeding the needy don't have the room, equipment, or manpower to handle and store the large amounts of food that major corporations or manufacturers are often able to offer. Rather than lose the opportunity to receive those donations, through America's Second Harvest, member food banks can benefit from the donations of major donors, by receiving appropriate portions of the food and supplies that America's Second Harvest helps garner for them. They then, in turn, distribute it to local groups working directly with the needy.
America's Second Harvest also makes it easier for major donors to offer up their goods, as rather than having to call the various food banks throughout the US, major donors can instead donate massive amounts of food with a simple phone call to America's Second Harvest who then finds food banks around the nation who will take the donation.
In 2000 America's Second Harvest merged with Foodchain, at that time "the nation's largest food rescue organization" and in 2005 changed its name to America's Second Harvest -- The Nation's Food Bank Network.
Today America's Second Harvest - The Nation's Food Bank Network is the "largest charitable hunger-relief organization in the country." Over 25 million low-income Americans, including 9 million children and nearly 3 million seniors, are served by this incredible project each year. America's Second Harvest also works to increase public awareness of 'domestic hunger' and serves as an advocate for America's hungry.
By helping local charities and agencies, America's Second Harvest helps tens of thousands (more than 94,000 to be precise) of assistance programs including soup kitchens, shelters, and after-school programs. America's Second Harvest specifically supports seven programs aimed at reducing hunger throughout America. Two touching programs specifically geared at child hunger are the Kid Cafes and Backpack Programs, which provide free meals and snacks to low-income children. Another noteworthy program is called Community Kitchen and provides culinary job training to low-income individuals to prepare them for culinary careers, helping to break the poverty cycle. Other programs are specifically geared at disaster relief, providing emergency food to disaster victims.
If ever an organization embodied their slogan, this would be it. Working under the motto "Creating a hunger-free America" America's Second Harvest is working fervently to simply, do just that.
My Hero caught up with Joyce Jacobs, Associate Director of the Harry Chapin Food Bank of Southwest Florida.
She has been involved with the food bank for 16 years. Thirteen years ago it became an America's Second Harvest certified affiliate.
How important are volunteers to your food bank?
We depend a LOT on volunteers. All of our food sorting is done by volunteers, as well as some of our office work and much of our outreach work. It's very rewarding work. We had one woman who volunteered until she was 94, and would still be doing it now if she could. I would guess the average age (of our volunteers) is about 60, mainly members of our retired community, although we get a lot of youth too.
Where does your food bank typically distribute its food resources to?
On a normal basis we serve 150 local agencies. A lot of them are church pantries, soup kitchens, and aids groups, but basically we help a variety of entities working in food distribution or ministry.
Because of your Florida location, does your food bank participate in a lot of hurricane-related disaster relief work?
We do both relief work and regular food distribution. We hadn't had a major hurricane hit our area for 60 years, so when Charley hit it did a lot of damage here. The last storm that hit us hit south of us... and created a lot of damage towards the center of the state. It required a lot of work on our part, and left a lot of people needy for an extended period of time, as many people have been homeless or out of work because of [the storms] for two years now. America's Second Harvest is a great partner year around, and then they do double duty for us during disasters.
So how exactly does the relationship between a food bank and America's Second Harvest work?
America's Second Harvest doesn't have food warehouses -- they instead build relationships with big manufacturers and let us know when the food or products become available. For me to talk to Kellogg's or one of the big companies would be very difficult. America's Second Harvest is very creative, though. They have a food resource staff that is constantly talking to major food manufacturers, farmers, major grocery chains, etc. and building relationships. They then identify the product that is to become available, and through the Internet identify the need around the U.S., and then they let the food banks know the products that are available, and how we can have them. It's especially helpful during disaster situations because they have a very good system wherein they can pull their network to see who has access to what specific product, such as diapers, according to community needs.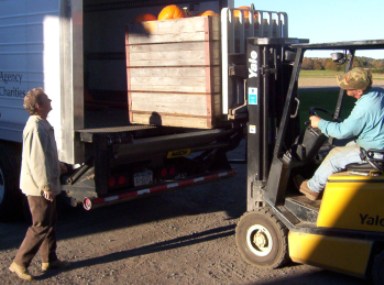 Farmers donate their bountiful harvest
How does America's Second Harvest work with the nation's farmers?
They work with farmers in a few different, creative ways. Let's just say a farmer has a field of potatoes, for example. Instead of [the farmer] just plowing that field, America's Second Harvest will arrange for it to become a 'value added product.' They tell the farmer: 'you pay your workers to pick potatoes, and we'll pay for bags and arrange transportation to get your potatoes off the farm.' Everyone wins in this arrangement -- the farmer who is donating his crop, his workers that are getting paid to pick them, and the needy who receive his donation. Other farmers do something called "plant a row for the hungry" where they purposefully plant extra crops for the purpose of donation.
So is most of the food bought by America's Second Harvest, or donated?
Most of the food is donated, either by big corporations, by farmers, or by the public. Every food bank is funded differently, though. In our case, we do a lot of fundraising events. We have festivals, an auction, a lot direct mail, and grant writing. Some food banks get a lot of great direct corporate support. We have a lot of individual donors.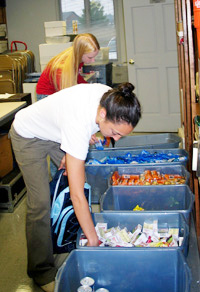 McCracken Backpack Food For Kids Program was started by a group of teens to provide backpacks for kids who are on free and reduced lunches and who might not have enough to eat over the weekends.
How do these individual donors help your food bank? How can others get involved.
We depend a lot on food drives. We collected over ONE MILLION pounds, that's 531,000 lbs to be exact, of food during our Thanksgiving and Christmas drives, and during our Letter Carriers food drive we collected 347,000 lbs of food in one day! We also depend a lot on volunteers and have volunteer opportunities offered [all week long]. There's SUCH a need here. People always think Christmas and Thanksgiving are big times, but summer here is very important also, as schools are out and children are at home looking for food to eat in their refrigerator.... it's a series of problems compounded, and we are very busy in summer. People see this area as paradise but there are so many vulnerable children and seniors.
Please tell us a little about how America's Second Harvest helps hungry children.
America's Second Harvest has two main programs specifically geared at the nation's youth. The backpack program in partnership with WalMart, provides backpacks full of food and snacks each week for needy children. There are also the Kid's Cafes; we have one in Punta Gorda. We found that children were staying there oftentimes until 7 at night or later and not getting food, so we partnered with the local hospital who now makes hop meals for them every evening. This is all thanks to America's Second Harvest.
Working and volunteering for America's Second Harvest is wonderful; it becomes your passion, and not just your job.