A hero, to me, is someone who is honest, caring, gives all that they can and loves to smile and laugh. [A hero is] someone who has worked hard for all they have achieved, and most importantly, someone who has also been through hard times. The reason I think that is the most important trait is because when they help others they know how that person really feels, because they were once there, themselves. And finally [a hero is] someone who helps and is an average person like me and you. When I think of all of those things combined, one person comes to mind, and this person is Selena Quintanilla Perez.
Born April 16, 1971 in Lake Jackson, Texas, she was the youngest of 3 siblings. At the age of 3, she began singing to her father out of a children's book of songs. That was when her father realized she could sing. When Selena was 9 years old she would perform at the family restaurant Papagallos with the band Los Dinos. This Lasted for a while, but Papagallos went out of business, which caused the family to go bankrupt, and to move to Corpus Christi. There they never gave up; the band traveled around Texas playing everywhere they could to earn money.
In 1984 Selena y Los Dinos started recording songs. Selena met Chris Perez in 1988. At fist they were just friends, but soon they started feeling other emotions. Selena, at the age of 20, secretly married Chris.
In 1990 Yolanda Saldivar opened the official fan club for Selena. By February, Saldivar was stealing money from the fan club. Selena fired Saldivar but Saldivar had to keep working to find the missing money. One day Selena went to collect the money but some was still missing, so she went back to the hotel and they had a massive argument. When Selena turned to leave, Saldivar took out a gun and shot Selena in the back of her right shoulder. She was rushed to the hospital and declared dead at 1:09 p.m. on Friday March 31, 1995 in Corpus Christi, Texas. She was only 23 years old.
She wasn't able to see her English album grow to become her biggest album, but it was finished and released in July of 1995. This CD won a Grammy. It later was her first album to go double-platinum. She became the first Latin singer to ever make it to the top that quickly and to sell so many copies of her album during the first week. She was honored with over 60 awards from the years 1983- 1995.
She did so much more than she could have ever imagined. It makes me wonder, though, that if she had lived longer she could have been an even bigger success. She did everything for her people. Up until her death, everything was all for her fans. That was even the reason she died; she went to get the money back for her fans and she was killed. I was a big fan of hers, even though I was only 5 years old when she died. I even thought that one day I could meet her. This dream never came true, but I know that she still cares. I could not believe that the girl that I wanted to be like was gone. I had a birthday wish that I could meet her, but of course that never came true.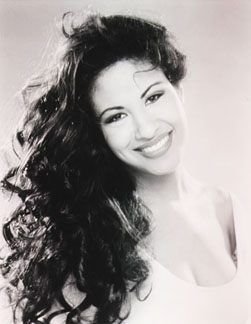 Something I will always remember will be her smile. It was so beautiful; it is hard to describe in words, but it could turn heads in a room full of people. I think I have that part of her with me always, because when I smile I try to go with it, I do not care if I do not have perfect teeth or if they are not bleach white; it is how I want the world to see me. She did care what people thought of her; that is why she tried to be the best she could, but she never had any problems because most of the world thought she was a wonderful angel. I look up to her because she started as an average person, like me and you.
She knew what it was like to have a hard life, so she helped people with her dream. She enjoyed the simple things in life such as music and her family. So with the help of her gift, hard work, and a dream that no one could put out, she became one of the best Latino singers in the world. She also followed her dream of being a designer. Ever since she was a teenager all she wanted to do was create her own fashion line of clothing. Sadly, she never got to see those potential achievements to their fruition.
The reason why she is so important to me is because I am like her: a girl with a dream that I don't want to have put out, but only I can keep it alive. I know that there will be obstacles but I will have to overcome them. Her music will always live inside of me because whenever I think of love, roses, or music, she comes to mind. I hope one day I will reach my goal with the help of my hero to lift me up when I fall down.
Page created on 5/17/2005 12:00:00 AM
Last edited 5/17/2005 12:00:00 AM