by
Allie and Kathryn from Michigan
We enjoy reading Dr. Seuss' books, from the creative drawings to his rhyming and rhythm. Dr. Seuss was born on March 2, 1904 in Springfield, Massachusetts. His birth name is Theodor Seuss Geisel and he was often called Ted. His father, Theodor Geisel, was a brewmaster before Ted was born, and when Ted was a child his father worked as a zookeeper at the Forest Park Zoo. When his father took him and his older sister, Marnie, to the zoo, Ted would draw over-exaggerated pictures of the animals he saw. This later influenced his crazy imagination for the drawings in his books. Ted's mother, Henrietta Seuss Geisel, worked in a bakery. She memorized the daily specials by saying them in rhythm. You may wonder how Ted got his crazy rhythm and rhyming; it is from his mother's "pie chants." She would say her pie chants to Ted, in rhythm, to lull him to sleep. This was the beginning of the soon-to-be Dr. Seuss.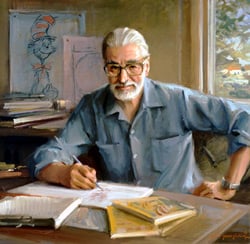 Ted did a lot of traveling in his teenage and adult years. He left Springfield, Massachusetts to attend Dartmouth College. There he became the editor-in-chief of the Jack-O-Lantern, the Dartmouth magazine. His reign came to an abrupt stop when he and his friends had a party that did not follow school policy. But that didn't stop Ted; he still got his drawings in the magazine by signing his name under Seuss, his middle name. That is when he really started to use Seuss as his name. After his graduation, Ted told his father that he was going to go to Oxford University in England. The real truth was Oxford did not accept Ted. His father was still able to send him by getting money for his funds. Ted was planning to become a professor at Oxford, but he was in for a little more than that.
During one of Ted's classes, another American student named Helen Palmer noticed his drawings. She advised him to become an artist instead of a professor. Ted took her advice and dropped out of Oxford. After some time he asked Helen if she would marry him. But he needed to find a job first. Ted returned to the United States and became a cartoonist devoted to creating advertisement campaigns for Standard Oil and their product, Flit. Standard Oil's competitor, Fly Tox, saw what Ted could do and offered him a contract as well, which was very similar to the one Flit was offering him. Ted, being the goofy person that he was, flipped a coin to decide,and Flit won the toss! Now you know who came up with the idea of "Quick, Henry, the Flit!" Ted spent 15 years working for Standard Oil.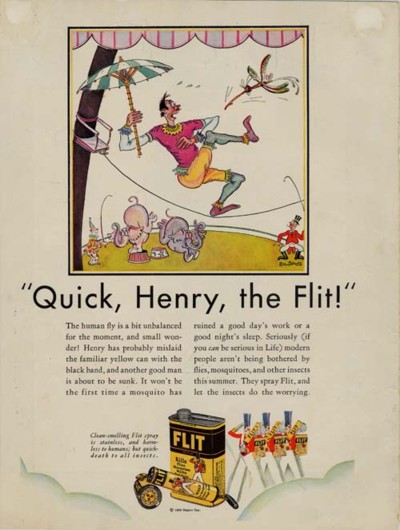 Even though Ted was not in favor of war, he knew that the German and Japanese war would start soon. The first thing he did to serve his country was to send three to five cartoons to PM Magazine. Ted still wanted to do more for the war effort even though he was too old to be drafted. He enlisted anyway, hoping to serve in the Naval Intelligence. Instead, he worked for the US Army making films to train new recruits. The movies were animated, using a trainee named Private Snafu. Many thought the idea of animated films would not be useful, but the new recruits seemed to understand them and relate to the experiences Private Snafu went through. As you probably already guessed, Ted used rhyming and rhythm in his scripts.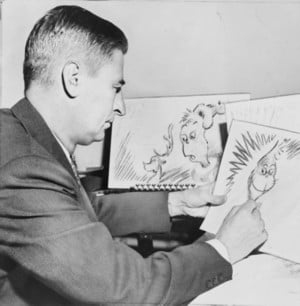 Ted submitted articles and illustrations to magazines like Vanity Fair, Life, and Judge. An editor came to him to offer him a contract with Viking Press to illustrate a children's book called, Boners. The book did not do very well (the illustrations were the best part), but Ted didn't see that as a set back. He saw it as his first "big break." Even though it was obvious that he could have a career as a writer and illustrator, it didn't mean that the road would be easy. For example, the first book he wrote and illustrated, And To Think I Saw It On Mulberry Street, was sent to 27 publishers and was rejected every time. It was very discouraging for him, but a friend he met at Dartmouth University, who worked at Vanguard Press, was able to help him get it published. The book was well-liked by parents, children, and librarians. This was the first book that was written under the name of Dr. Seuss. Ted went on writing and illustrating many more books under the name of Dr. Seuss; some of his most famous books are Green Eggs and Ham, Cat In The Hat and How The Grinch Stole Christmas.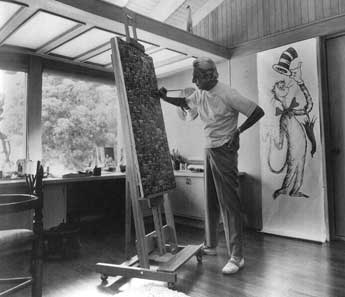 A sad time in Ted's life occurred when his wife, Helen, became ill and died. He was crushed, as Helen had meant everything to him. He went on to marry an old friend named Audrey.
During his life, he had many successes, such as winning two Academy Awards, two Emmy Awards, a Peabody Award and a Pulitzer Prize. He is most famous for his 44 illustrated and written children's books. His books have been translated into more than 15 languages, and at the time of his death, there were over 200 million copies all over the world. His books were second on the list of most sold books in the world, next to the Bible. His books have inspired his readers to use their imaginations and enjoy the strange and fun experiences life has to offer. The last book he wrote before his death on September 24, 1991, was Oh, The Places You'll Go! Ted will always be known to have lived a double life, one as Theodor Seuss Geisel, and one as Dr. Seuss!
Dr. Seuss has brought life to our imaginations. He has taught us that imagination does not end with daydreaming. Even though Ted was rejected many times for different things, he pursued his dream and never gave up. This lesson may help a child to become the person he or she has always wanted to be. Ted's inspiration has encouraged generations of kids to explore the joys of reading his books. Dr. Seuss has said many things that can build up a person during their weakest moments. One of his inspiring quotes:
"The more that you read, the more things you will know. The more that you learn, the more places you'll go."
Page created on 9/29/2012 4:37:01 PM
Last edited 4/23/2019 12:14:37 AM
Related Links
Seussville!
- The Cat in the Hat celebrates his 50th birthday!
Theodor Geisel
- Biography from the National Education Association
Poetryfoundation.org
- is an independent literary organization committed to a vigorous presence for poetry in American culture. It exists to discover and celebrate the best poetry and to place it before the largest possible audience.
The Art of Dr. Seuss
- "70 years worth of American history via the timeless, groundbreaking and imminently fun work of Theodor Seuss Geisel"