Shana
by
Josh from Atlanta, Georgia
When 81 year old Eve and Norm Fertig, the owners of an animal rehabilitation sanctuary, were suddenly trapped outside their house in the snow, they had no hope of survival, except their dog, Shana. She is a half German Shepherd - half Wolf, who was rescued by the Fertigs from a breeder when she was 2 weeks old. There was a huge snowstorm over Alden, New York on October 12th. When the Fertigs went outside to see why the power was out, outside the building in their forest sanctuary, a massive tree fell, trapping them about 200 feet from their house. There was seemingly no way out of the situation. Other trees blocked their way to other sanctuary buildings, and they weren't even wearing very warm clothes.
That's when Shana saved the day. She dug a tunnel under all the fallen trees through the thick snow with only her paws and teeth, in dogged determination to rescue her owners, putting aside all wolf instincts she may have had, telling her to abandon them and save herself. She then dragged Norm and Eve all the way through the tunnel, and gave her own body heat to keep them warm in the powerless house, until the firefighters cleared the roads. There was space for the Fertigs to stay at the fire station, but they chose to stay at home, and Shana kept them warm for 3 more days. When power was restored, Shana's story gave the firefighters hope as they cleared trees from and restored power to the rest of the area. She received an award for bravery from the Citizens for Humane Animal Treatment.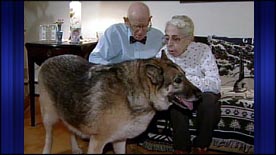 Shana is a hero to me, because she did everything she could possibly do to save the people who she cared about, and never did anything remotely selfish. She even put up with the pain of digging through the snow bare-pawed. (If you've ever tried to make a snowman without gloves, you know what I'm talking about). So, Shana the wolf-dog fulfills all the criteria for being a hero, and, being a dog, she fulfills one more that only great heroes have, modesty. No dog ever wants to be famous; they just want to be loved.
Page created on 9/20/2011 12:00:00 AM
Last edited 9/20/2011 12:00:00 AM
The beliefs, viewpoints and opinions expressed in this hero submission on the website are those of the author and do not necessarily reflect the beliefs, viewpoints and opinions of The MY HERO Project and its staff.