A young Swedish Muslim, Siavosh Derakhti, has founded a group that educates young people about the evils and dangers of anti-Semitism, racism, and xenophobia.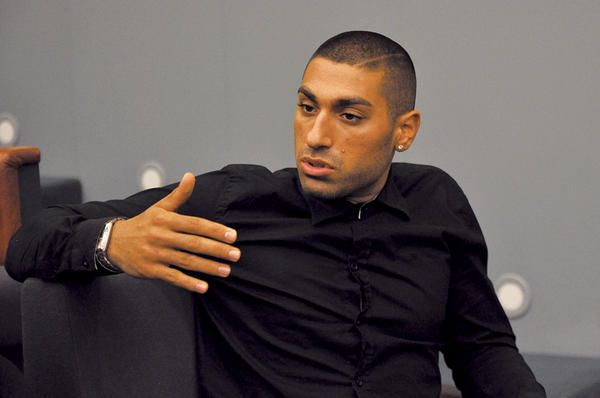 MALMÖ, SWEDEN - President Obama wanted to thank him in person. He wanted to tell the young Muslim activist, who is combating anti-Semitism and xenophobia in his native Sweden, that what he's doing is inspiring, and to keep it up.

"It was fantastic," says Siavosh Derakhti, recalling his one-on-one meeting with the American president this fall. "It was one of the greatest moments of my life."

Mr. Obama, who hugged Mr. Derakhti when they met at the Great Synagogue in Stockholm, especially wanted to thank him for having the courage and commitment to found the group Young Muslims Against Anti-Semitism (now known as Young People Against Anti-Semitism and Xenophobia).

Derakhti, a 22-year-old who was born in Sweden, is the son of Iranian immigrants. He says he hopes to travel to the United States one day to share his story – and the story of his hometown of Malmö, a dynamic and diverse city of some 300,000 in southern Sweden.

"Anti-Semitism, Islamophobia, and xenophobia are huge problems in Malmö," Derakhti says. "I can't accept that Jews are leaving my hometown [because of anti-Semitism]. I told the [US] president [who was in Sweden on an official visit] that I would never give up the fight for equal rights for all people."

Malmö has gained an unfortunate reputation in recent years (some say unfairly) for being hostile to minority groups, especially Jews. Jews have lived in Malmö – Sweden's third largest city after Stockholm and Gothenburg – since the mid-19th century.

Reports of hate crimes have been on the rise. Residents of African descent also have been singled out for abuse, including a man from Gambia who, along with his 18-month-old son, was recently assaulted in an incident classified as a hate crime by police.

The Jewish community center has been fire-bombed, and its cemetery desecrated. Swastikas have been scrawled on the doors of Jewish homes. And the Los Angeles-based Simon Wiesenthal Center, a leading Jewish human rights organization, has issued a travel advisory for Malmö, citing repeated verbal and physical attacks against Jews.

In a report released late last year, the European Commission Against Racism and Intolerance said that it views "with particular concern" the situation in Malmö, where individuals wearing visible symbols of their religion, it said, are regularly attacked, and Jewish children suffer "anti-Semitic bullying" at school.

Some observers, such as Willy Silberstein, president of the Swedish Committee Against Anti-Semitism, blame the situation on certain politically motivated elements of the city's growing Muslim population, which now numbers about 75,000, or about one-quarter of the city's total population.

"Many Jews," Mr. Silberstein said in testimony before a subcommittee of the US House Foreign Affairs Committee earlier this year, "have left Malmö simply because they are afraid and ashamed to live in a city which treats Jews like this" – even though, he said, "a large portion" of the Muslim immigrants in Sweden are not anti-Semitic.

Others say that the political leadership in Malmö has added fuel to the fire, citing comments by former Mayor Ilmar Reepalu, who retired earlier this year but remains a member of the municipal board, suggesting that Jews themselves were to blame because they have not distanced themselves sufficiently from the state of Israel. His successor, Katrin Stjernfeldt Jammeh, who took office July 1, has promised to work to improve the situation.

Derakhti says he focuses on educating young people about the evils and dangers of anti-Semitism, racism, and xenophobia. He has done that by speaking to students and teachers at schools around the country, holding workshops for educators and others, and pressing the authorities to work toward "increasing awareness and understanding between different groups," he says.

Several years ago, upon hearing that his school in Malmö had never invited a Holocaust survivor to speak, Derakhti arranged for two survivors to meet with fellow students. Later, he organized a class trip to Auschwitz, the site of a German World War II concentration camp in southern Poland, for more than two dozen of his classmates, most of them Muslim.

It was not his first trip to Auschwitz. From an early age, he had been interested in World War II and the Holocaust. When he was 13 he asked his father how he could learn more about it. His father volunteered to take him to a former Nazi concentration camp to see for himself. Their first visit was to Bergen-Belsen in Germany; their second was to Auschwitz.

Both trips, Derakhti says, affected him profoundly.

These days, he has also been a strong public advocate for "building bridges," as he puts it, writing in the local newspaper Sydsvenskan, for instance, that Jews in Malmö have been subjected to "everything from threats to harassment, and it's our duty as Swedish citizens of Malmö to react and stand up."

For his work, Derakhti earlier this year was presented with the Swedish government's Raoul Wallenberg Award – named after the late Swedish diplomat who is credited with saving thousands of Hungarian Jews in 1944 from Nazi death camps. The selection committee said Derakhti set a "positive example" in Malmö and throughout Sweden. "He is a role model for others," the Wallenberg Award committee wrote, "showing through his actions and determination that one person can make a difference."

Olle Wästberg, a former Swedish consul general in New York who chaired the committee, says that he would like to believe that Derakhti is a typical young Swede today. "But," he concedes, "that might be too much to say."

Derakhti will use the prize money that comes with the award (100,000 Swedish kronor, about $15,800) to advance the work of his organization, he says. He wants to train a corps of "ambassadors" whose job would be to equip young people with the tools they need to fight intolerance and ignorance throughout Sweden.

"These problems are on the increase," Derakhti said upon receiving the Wallenberg Award, "and that scares me."

Silberstein admires Derakhti because in founding Young Muslims Against Anti-Semitism he took a risk for peace. "He took an initiative that is rare," Silberstein says. "It shows he has integrity and thinks for himself."

Derakhti is "a fantastic guy with lots of humor and warmth," Silberstein adds. He also has a remarkable ability to distinguish between individual Jews in Sweden and the state of Israel. The young Swede has been critical of Israeli policy, Silberstein says, even as he has reached out in friendship to Malmö's Jewish community, which now numbers around 650.

Last year, Silberstein's organization presented Derakhti with an award aimed at encouraging young people to employ social media in their fight against anti-Semitism.

Derakhti is especially concerned these days about the increase in online racism and "cyberbullying" in Sweden, he says, as well as the rise in popularity of the political party known as the Sweden Democrats, which most Swedes consider to be dangerously xenophobic.

In the country's most recent general election three years ago, the Sweden Democrats succeeded in winning enough support to gain seats in Parliament for the first time since its founding in 1988. The party, which won 5.7 percent of the vote, is also likely to do well in the next general election, scheduled for September 2014, most analysts predict.

But Derakhti remains hopeful, saying he will expand his work beyond Malmö. Receiving the Raoul Wallenberg Award will help him achieve "something bigger," he says.

"I've worked on these issues on a voluntary basis," he says. "I've struggled, traveled around giving talks, paid for my own coffee.

"I want to train more people. I want there to be groups, in schools and elsewhere, in which people are actively working to combat xenophobia. You can go far on your own. But you can't take it all the way."
Page created on 11/18/2013 10:13:24 PM
Last edited 1/5/2017 8:21:02 PM
Extra Info
Helping to build peace
UniversalGiving helps people give to and volunteer for top-performing charitable organizations worldwide. Projects are vetted by Universal Giving; 100 percent of each donation goes directly to the listed cause.
Below are groups selected by UniversalGiving that support peacebuilding:
• Asia America Initiative supports peace, social justice, and economic development in impoverished communities. Project: Assist peacebuilding initiatives for children across cultures.
•Global Citizens Network promotes cross-cultural understanding and interconnectedness through immersive experiences. Project: Volunteer at a center for peace.
• Volunteers For Peace provides voluntary service as a means of education, service, and community development. Project: Choose a volunteer opportunity from around the world.