Sister Rosemary Nyirumbe has a lot of nerve. And she has a lot of children, especially for a nun--an estimated two thousand girls. They are all former child solders and sex slaves once captive of Joseph Kony's brutal Lord's Resistance Army in Uganda. The girls have been victimized three times over: they were forced to become trained killers, many had babies born of rape, then they returned home to find themselves shunned. Though the girls were still physically alive, they had otherwise been used, abused and discarded.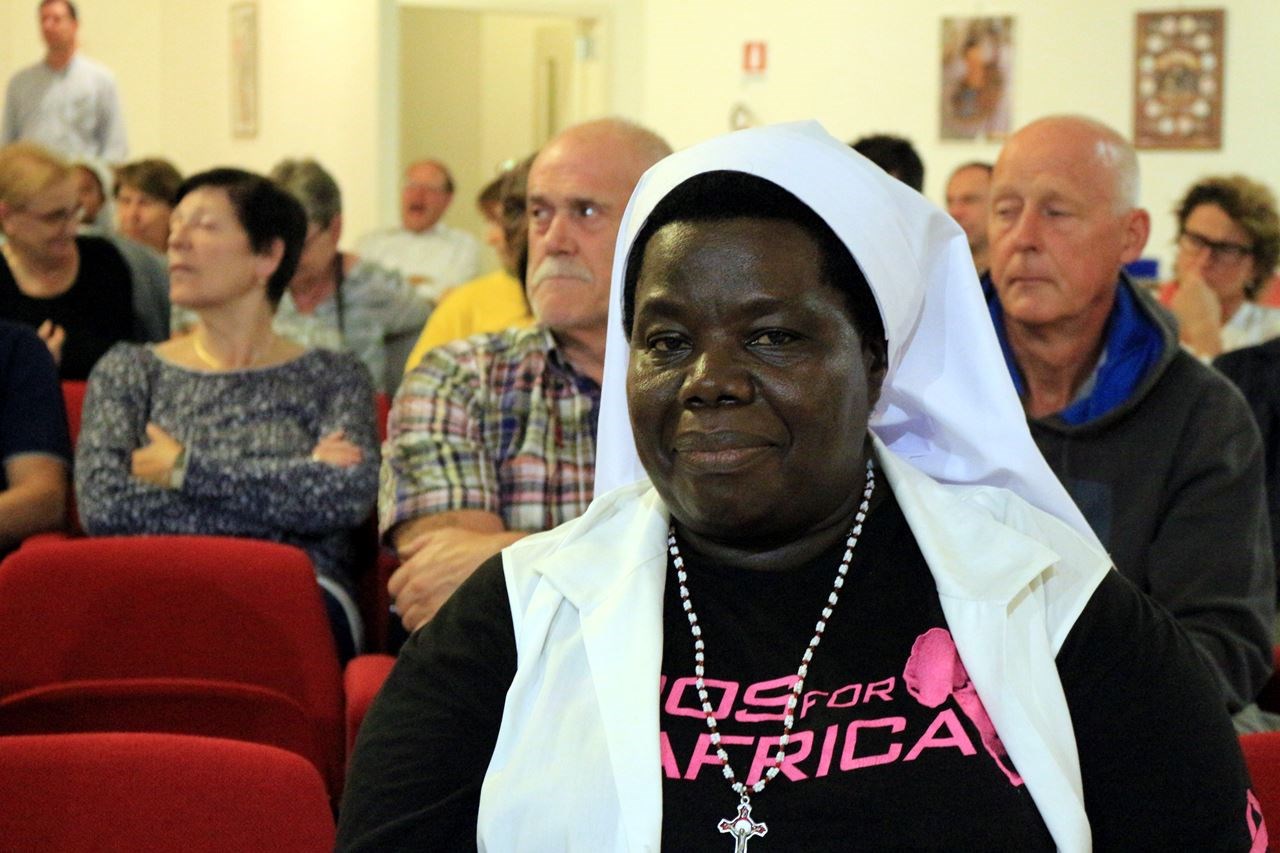 Sister Rosemary NyirumbeMissionari Verbiti e Amici Verbiti [Public domain]
Sister Rosemary was running a school in Gulu, Uganda. In the wake of the war, it became a mission.
"The LRA used the tactics of bringing these children back to kill people in their communities. Sometimes the children were able to kill their own siblings. And this made the girls feared by their communities...That is why I opened the door and made a family where the girls could be respected, where they could restore their own lost childhood."
There were nights during war when all that stood between the scared girls on one side of the compound wall, and the sadistic soldiers on the other side, was Sister Rosemary. Armed only with her faith, and the courage of her convictions, the "tough as nails" nun never backed down. She remembers taking patrol at night, and gathering the scattered during the day. She'd find kids as young as five hiding in containers. She took all of them in. It never occurred to her to be afraid of the children themselves.

Sister Rosemary knows instinctively how to bring them "back to life." Her girls need a mother who can love them despite the atrocious acts they've committed, or the degrading abuse they've endured. They crave everything about Sister Rosemary that she takes for granted about herself, including her endless patience and enormous heart.
"They need someone to walk with them, to sit with them, to find out what happened to them, so the young women understand their lives are not actually broken. The girls come in from pain. [They need to] walk away from their pain and get their dignity restored. I want them to live again in hope."
The war ended officially in 2006 with a written truce. Joseph Kony remains at large. Lost girls litter the African continent. And they keep coming to Sister Rosemary.
"Their life has been robbed from them, their education, their dignity and a good number of them were even robbed of their own families... They don't know where to start. So I go on the radio and say come to me."
At her St. Monica School and Tailoring Centre in Gulu, no girl leaves without a skill to support herself. The work restores self worth, says Sister Rosemary, and she is particularly proud of the purses they produce. The girls make several original designs, stitched together from the pop tabs of aluminum cans. They are both a source of money and a symbol.
"[The girls] can produce beauty out of rubbish. They were put aside as trash. They are not begging. They are not working as prostitutes. They are productive. They are making things from trash."
From her tiny corner of Uganda, Sister Rosemary's story has now spread worldwide. First came the book, "Sewing Hope", then the documentary of the same name, then the international honors.
In the spring of 2014 Sister Rosemary found herself on Time Magazine list of the World's One Hundred Most Influential People. At the New York banquet (in front of celebrities like Beyonce), Sister Rosemary brought the ballroom to a hush. Fearlessly, she drew up her five-foot stocky frame at a microphone to cajole the crowd into caring about her lost girls. She spoke with perfect emotional pitch, pop tab purse prominently displayed, website promoted, without a note. By the time Sister Rosemary finished, all the big names in the room seemed smaller.
Sister Rosemary Nyirumbe's disarming, international presence is not something she planned. It was her wish to keep her picture out of the picture. She had to be convinced that she could be good for her girls as a spokesperson. And she is. Pop tab clutch ever in hand, Sister Rosemary has become the unpredictable, very powerful nun who packs her principled punch wherever she goes. She keeps her personal story mostly private. She joined the convent at fifteen. She got a university degree courtesy of the Catholic Church. Where the rest of her considerable gifts come from is anybody's guess.
While appearing on Comedy Central's Colbert Report, in New York City, host Stephen Colbert (in bully character) asked Sister Rosemary what she was going to do if he didn't care about the Lost Girls of 2014 in Nigeria because they were in Africa? She replied: "If you cannot be sad because it is happening in Africa, which is part of the humanity, I would feel like jabbing you."

While speaking, the nun raised ready fists, as though poised to punch Colbert. Sister Rosemary gleefully played the surprised crowd like a pro, as Colbert asked if he could punch her back. She replied (with perfect comic timing), no, because she would win. The audience roared.
However she gets and holds the world's attention, Sister Rosemary keeps her mind on her mission: her girls. Back in Uganda, Sister Rosemary is continually able to offer more. She is supervising a second Centre for girls in her country and has a third under construction in South Sudan. In the classroom, The St. Monica School and Tailoring Centre is giving the girls' babies Kindergarten to begin their education.
Many of the two thousand total have kept in touch after they go. To Sister Rosemary, each girl able to launch a life after such crippling trauma matters. Sadly there are always more lost girls who need her help. But finding them again has become the deep joy of Sister Rosemary's life.
"I want to substitute Good for Evil, to make a school where these girls could be accepted. Where they could find love and compassion. Where they could be taught how to love these children they got from painful situations. Some of these girls, the ways they feel, it makes them so dignified and loving. It makes them able to love their own children. It makes me so happy."
Page created on 7/3/2014 2:13:28 PM
Last edited 10/27/2019 9:31:08 PM
Extra Info
Join Sister Rosemary on FACEBOOK https://www.facebook.com/SisterRosemary
FURTHER INFORMATION:
htttp://www.newsok.com/ugandan-nun...in-time.../4453618
http://www.SewingHope.com
http://www.ireport.cnn.com/docs/DOC-1106426