Smoky
by
Lizzie from Ohio
This quote by Susan Ariel Rainbow Kennedy, well describes the smallest of all war heroes, a Yorkie named Smoky. "Dogs are miracles with paws". She became an official war dog in January of 1945 when a taxi strip had to be crossed by a cable. The three day job would expose the plans to bombing. Smoky solved the problem by pulling a string with the wires attached to it through an eight inch pipe under the 70 foot length of an under ground pipe. Smoky saved a number of soldier's lives. She also saved her owner's life. Their ship was being bombed. Smoky guided her owner to duck and the fire that hit 8 other men standing next to them. Smoky is the smallest, but bravest of all the war heroes.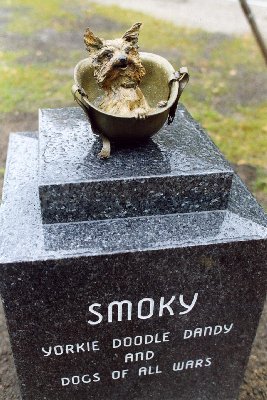 There are many other war dogs other than Smoky, and other dogs have served in wars. In the Middle Ages dogs were put in armor and sent to war with their masters. Napoleon put dogs as posted sentries at the gate of Alexandria, to warn them of an attack. Native Americans later trained dogs for pack and draft work, they were also used for sentry duty. During the Civil War, dogs were used as messengers, mascots, and as guards. Germany made the first training school for dogs in 1884. They were also used in World War One and Two and were proven to be very good soldiers. Dogs can be heroes too and they will always stay at our sides.
Smoky was found in an abounded foxhole in 1944, by William A. He was her owner until Wynne bought her for $6.44 so William could have money for poker. She traveled in Wynne's backpack and went on missions with him. She slept on a blanket made out of green felt in Wynne's tent. The Yorkie was not an official war dog so she did not receive medical care, but she was never ill and she had to share food with Wynne. They survived 150 air raids. She went on twelve combat missions and was awarded eight battle stars. In 1944 she was given the title of champion mascot.
Smoky later returned Wynne's kindness by saving his life. Smoky and Wynne were on a ship that was being bombed. Smoky led Wynne to a safe area and guided him to take cover. The fire hit and killed eight men standing next them. She saved his life and now Wynne called her his angel from a foxhole. Smoky learned over 42 tricks. Wynne took her to perform tricks in hospitals from Austria to Korea. When he was hurt in the hospital Smoky was allowed to stay with him for five nights.
Throughout our history dogs have always been with us. Smoky was a brave dog like all the other war dogs. War dogs are all soldiers and they are all heroes. Smoky was the smallest war dog, but the most known U.S. war dog. Smoky and the other war dogs are the heroes of many difficult wars.
All heroes have to be brave, kind, and unselfish. They need to be able to make the best out of the worst situation. Smoky showed all of these characteristics, she saved Wynne's life without fear for her own. She was there to comfort people who were in hospitals. The Yorkie was able to live her life to the fullest no matter what might have happened in her past. Dogs will always stay at our sides, heroes or not, they will defend us even if we are strangers. Smoky is my hero and I hope her story has inspired you as much as it has me.
Page created on 4/7/2007 12:00:00 AM
Last edited 4/7/2007 12:00:00 AM
The beliefs, viewpoints and opinions expressed in this hero submission on the website are those of the author and do not necessarily reflect the beliefs, viewpoints and opinions of The MY HERO Project and its staff.
Related Links
Bibliography
none, none. "Smoky (dog)." [Online] Available "Smoky (dog)." Wikipedia. 2007. 4 Apr 2007 .. 2007.