To many people the name Sojourner Truth may sound old and outdated, but actually that is one name that should live on in young America's heart and receive praise. Sojourner Truth was an American hero, one that worked for freedom of slaves, women's rights and equality in general during the 1800's. The reason we should remember Sojourner Truth is because every speech she made and every rally she took part in was so that we, the American citizens, could come together and as citizens live, work, and shape this country into what it is today.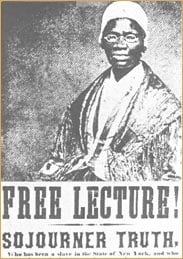 Sometime during 1979 in Ulster County, New York, an Isabella "Baumfree" was born. Actually born Isabella, the last name Baumfree was tagged to her by her father who went by James Baumfree, although in later days neither the name Isabella or Baumfree would matter as much as Sojourner Truth, which is the name she took for herself. Before there was a Sojourner Truth, Isabella was born property of Charles Hardenbergh and for 9 years, before he died, Isabella, her father James, and her mother Elizabeth lived under the Hardenbergh house with other slaves. Isabella was first sold for $100 after Hardenbergh died. She was sold again to John Dumont for $300. While she was working under Dumont she was married to a slave named Thomas with whom she had four children. The state legislature of New York passed a law giving freedom to slaves born before July 4, 1799. The state of New York said that she would have to wait 10 years before she was set free. Because she was such a hard worker, Dumont promised to let her go free a year early. In 1826 Isabella ran away from Dumont and found a family called the Van Wagener's. The Van Wagener's bought Isabella's freedom from Dumont for $20. While staying with the Van Wagener's she was also able to sue for the freedom of her son who was sold illegally.
As a newly freed woman, Isabella changed her name to Isabella Van Wagener and worked as a servant. Isabella later moved to Sing Sing, New York, with a religious group that spread the word that God was on earth with everyone else. Isabella pulled out of the group when the leader was charged with the murder of one of the followers and she was called an accomplice to the mission. After winning a lawsuit accusing him of slander, she took lots of time to think about the Lord. In June of 1843, as Sojourner Truth, she went on tour of the Midwest, Mid-Atlantic, and New England states preaching. She changed her name to Sojourner because she felt it was the name God had given her according to a dream she had. This was the first of many tours she took. Sojourner also joined the Northampton Industrial Association, where she met important abolitionists such as Frederick Douglass and George Benson. During this time, Sojourner Truth learned about the abolitionist movement and the movement for women's suffrage.
In 1850, Sojourner Truth published her book, The Narrative of Sojourner Truth, which was an autobiography and a collection of some of her speeches. In 1857, Sojourner and her daughters moved to Harmonia, Michigan. She worked to help soldiers during the Civil War by collecting clothes and food, nursing them to health, and trying to make the army camps cleaner. On October 29, 1864, she met President Lincoln at the White House. She also was appointed counselor to newly freed men by the National Freedmen's Relief Association in 1864. In March of 1870, a petition made by Sojourner was presented to President Ulysses S. Grant. This petition was for a state in the western United States for freed slaves, but it didn't go over too well. Sojourner Truth returned to Michigan in 1875 because of health issues.
After reading about her it might seem hard to describe Sojourner Truth to someone who doesn't know about her. I think the best way to describe Sojourner Truth, if not as an abolitionist or a leader of the movement for women's suffrage, would be as a great humanitarian and someone who changed America for the better. That is how I think of Sojourner Truth.
Page created on 4/21/2006 12:00:00 AM
Last edited 4/21/2006 12:00:00 AM