Traveling by modified motorcycle Sri Lestari rides around Indonesia giving disabled people new hope.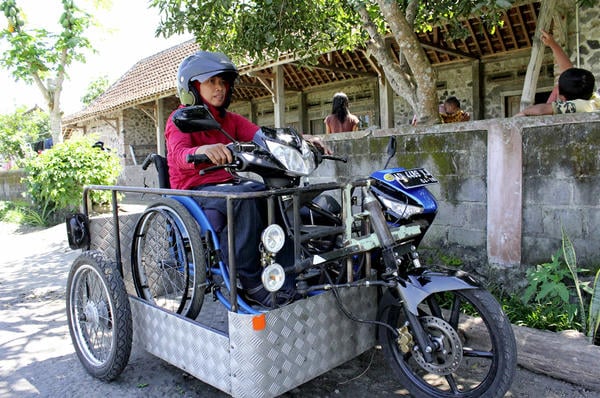 Joni Sweet
JAKARTA, INDONESIA

Sri Lestari doesn't let her inability to walk diminish her drive. For example, in May the social worker for United Cerebral Palsy/Wheels for Humanity drove more than 750 miles from Jakarta, the Indonesian capital, to Ubud, on the island of Bali, on a campaign to empower disabled people. Her life's mission is to prove that being disabled still means freedom, and it starts with the very thing that first injured her: a motorcycle.
When she was 23, a motorcycle accident left her paralyzed from the chest down. She fell into a deep depression and spent the next 10 years in her home in Klaten, in Central Java, embroidering and rarely going outside.

Like many others living with disabilities in Indonesia – a country that provides little aid to those with physical or mental challenges – life was a struggle. Her plans for the future had taken a huge blow when she lost her independence.

"Before I got a motorcycle, I just thought 'How can I work?' " Ms. Sri says. "I [was] so worried about that. It was making me stressed because I was jobless. I was really dependent on my parents, so I was so worried about a job."

It all changed when she learned about a program that modifies motorcycles by adding a wheelchair platform and ramp, additional wheels, relocated handlebars, and a hand-controlled stick shift and brakes.

For Sri, this was the answer. No longer would her sister have to pick her up, strap her feet to the back of a motorcycle, and drive her to the school for blind children in her village where, after she had built up enough confidence, she had started volunteering to help print books in Braille.

Eventually, Sri thought, riding a motorcycle on her own would eliminate the dependence on her parents that so deeply troubled her. She started asking around to find out where she could get her hands on a modified motorcycle.

"And then, my friend gave me the number of Karina," Sri said, referring to a Roman Catholic philanthropic organization that works on disability issues, among others, in Central Java. "I really dreamed that I could be independent when I saw the motorcycle at Karina. I was so happy."

It took some persuasion to make the wheels of her plan start turning – her parents were concerned about the image their daughter would present driving around on a supersized motorbike, not to mention the dangers.

Sri also couldn't afford the 4 million rupiah ($408) it cost to modify the bike. But with the help of two Dutch families who believed in her and sent her money, and Karina's subsidy program, which covered half of the cost, and after many discussions with her parents, she soon felt the wind in her hair and the buzzing handlebars under her tight grip. The bike, and the freedom that came with it, was hers, just a few months after meeting with Karina.

"I hope my experience can spread all around the world that disabled people really need accessible transportation," Sri says, just a few weeks before sharing her ideas in a talk in front of 300 people at a TEDx event in Ubud, Bali, on June 1. "The solution right now is modified motorcycles. It's impossible for paraplegics to go on public transportation by themselves."

According to 2010 data from the Indonesian Social Affairs Ministry, 2.1 million people in this country of 242 million live with disabilities. However, a report from the World Health Organization puts the figure as high as 16 million people.

Different definitions of disability account for the different figures. But it's clear that getting around Indonesia can be nearly impossible for these people. In most transportation hubs wheelchair ramps and elevators are not available or are improperly designed. And opportunities for employment are extremely limited, which plunges many disabled people into dire poverty.

The government offers vocational training to the disabled community in how to bake cakes, sew, or make handicrafts, in an effort to help them earn a living, Sri says. But this type of assistance is meaningless, she says, if people have no transportation to leave their villages to sell their products.

For the past four years as an outreach officer for the nongovernmental organization United Cerebral Palsy/Wheels for Humanity, Sri has gone from village to village to help the group's 5,000 disabled child and adult clients, a role whose success is entirely dependent on her ability to travel. She helps the clients build self-confidence, find employment, and get around.

'I think I am a good example'

"I think I am a good example. So many parents will see the positive things from me – that even if they have children with a disability, they have a brighter purpose, that hopefully their children can be like me," she says. "They can be free and independent."

Heny Prabaningrum, the deputy director of United Cerebral Palsy in Yogyakarta, Indonesia, says that Sri inspires her clients and shows them that independence can be a reality, despite their disabilities.

"Sri's great. She's a very inspiring person for everybody. She's very energetic. She goes everywhere, to the field to meet people and then also here [in the office] to help us," Ms. Heny says.

Menik Sumini, a homemaker who lost her ability to walk in 2006 when she fell from a tree she had climbed to gather food for her cows, says that Sri inspired her to get her own motorcycle. The vehicle now allows her to bring her mother to the market and her 8-year-old daughter to school.

"[Without the motorcycle], my daughter would have to walk around 1 kilometer [0.62 miles] to school by herself," Ms. Menik says, adding that Sri taught her to be independent at home as well. "I'm not dependent on others anymore. I wake up by myself, take baths, and wash clothes by myself."

The modified motorcycles benefit not only the recipients, but those who make them. To build and assemble the modified motorcycles, the Karina workshop employs disabled people, such as Ignatius Yunanto, the workshop team coordinator, whose leg was amputated in 2004 because of a tumor.

His small staff has constructed around 20 modified motorcycles since establishing the garage in 2008, Mr. Yunanto says. The process is still slow, taking about a month to complete a customized modification. But he hopes that spreading information about the special motorcycles through the news media and through Sri will allow more people to obtain them.

Better, cheaper modified motorcycles

Meanwhile, Michael Allen, the executive director of United Cerebral Palsy/Wheels for Humanity, says his organization is in the final stages of developing an improved motorcycle modification manufacturing process that will standardize parts, dramatically reducing the costs and production time.

Sri's life experience, vibrant demeanor, and passion for independence will be crucial to the success of the program, he said while speaking on the sidelines of the TEDx event.

"We hope Sri will really be driving this [project] forward," he says. "She's so inspiring, and we want to share her story with the world."

Sri, who can be seen driving her motorcycle around her village with half-a-dozen giggling nephews hanging on, hopes to share the benefits of modified motorcycles across Indonesia.

Anyone who speaks to her can attest to her love for her work. This opportunity to make a difference has given her life fresh meaning.

"I feel that the best part [of my life] is that people are inspired after they see me," she says. "They have a dream after they see me that they can be independent and they can live healthily."
Page created on 8/6/2013 4:14:46 PM
Last edited 1/5/2017 8:31:03 PM
Extra Info
Helping disabled people
UniversalGiving helps people give to and volunteer for top-performing charitable organizations worldwide. Projects are vetted by Universal Giving; 100 percent of each donation goes directly to the listed cause.
Below are three groups selected by UniversalGiving that help in children and disabled people in Southeast Asia:
•The Hope Alliance empowers impoverished people to create positive and sustainable change in their lives. Project: For $75, give a wheelchair to someone in need.
•Greenheart Travel promotes cultural understanding, environmental consciousness, and world peace. Project: Volunteer to help children with disabilities in Vietnam.
•The International Humanity Foundation seeks volunteers to contribute to their orphanages and education centers. Project: Volunteer to work with Indonesian children.