St. Francis of Assisi
by
Clancy from Mankato
Saint Francis was born either in 1181 or 1182 in Assisi, Italy. No one was sure which date it was. He died on October 3, 1226 in Assisi, Italy. He was canonized on July 16, 1228 by Pope Gregory ix. His feast day is September 17 and October 4th. Francis is the patron saint of animals, catholic action, environment, Italy, nature and merchants.
Francis was one of seven children. His father was Pietro di Bernardone, a rich cloth merchant, and his wife was Pica. Pietro was in France on a business when Francis was born, and Pica had him baptized as Giovanni de Bernardone in honor of Saint John the Baptist. She hoped he would grow up to be a religious leader. Pietro was furious. He wanted him to be a man of commercial success, so he called him Francesco.
He was known to many biographers to remark about his clothing, rich friends, street brawls, and love of pleasure. But one day he was selling clothing and a beggar asked for alms. He ran after the beggar and gave him everything in his pockets. His friends mocked him, and his father scolded him in rage. Francis was motivated by God to be a better person. He had a vision from Christ asking him to repair his house. He renounced his father and lived as a beggar. Later he led eleven followers to ask Pope Innocent the Third to found a new religious order. The pope agreed. He changed the world by showing people you can change for the better. He was a very religious man who loved God and nature. He set a very good example of how we should live our life.
Wolf Story:
There was a wolf that was terrifying and ferocious. He devoured men as well as animals. Francis had compassion for the people in the town and for the wolf. So he found the wolf and made the sign of the cross and commanded the wolf to come to him and hurt no one. Miraculously the wolf closed its jaws and lay down at Francis's feet. He told the wolf he had caused great evil and to make peace between himself and the people. The townsmen fed the wolf regularly. So the wolf never hurt the people or their flocks again. Francis, the lover of animals, even made a pact between the town dogs not to bother the wolf.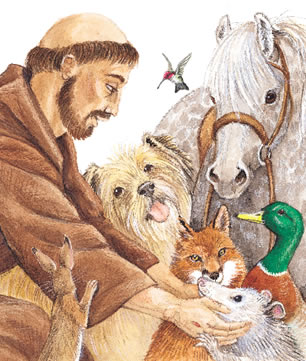 The Prayer of St. Francis,
Lord, make me an instrument of your peace
Where there is hatred, let me sow love;
Where there is injury, pardon;
Where there is discord, unity;
Where there is doubt, faith;
Where there is despair, hope;
Where there is darkness, light;
Where there is sadness, joy;
Lord, grant that I may seek rather to comfort, than to be comforted, To understand rather than to be understood, To love rather than to beloved. For it is in giving that one receives, it is in forgiving that one is forgiven, and it is dying that one awakens to eternal life.
Page created on 11/24/2008 12:00:00 AM
Last edited 11/24/2008 12:00:00 AM
The beliefs, viewpoints and opinions expressed in this hero submission on the website are those of the author and do not necessarily reflect the beliefs, viewpoints and opinions of The MY HERO Project and its staff.