St. Maximilian Kolbe
by
Paul from Mankato
He was born on January 8, 1894, as a subject of Czar Nicholas II of Russia, Kolbe received early "training in righteousness" along with his older brother Francis. Like many Poles, his parents were devout Catholics, intent on infusing their children with a love of God and freeing them from the contaminating influences of the world.
St. Maximilian Kolbe took the place of another inmate at Auschwiz because the inmate was crying that he wouldn't see his family again, so the commandant accepted Kolbe. Father Kolbe was born in Zdunska Wola, Poland, in 1894. At the age of sixteen he joined the Franciscans. He was a sickly youth, prone to debilitating bouts of tuberculosis that regularly sent him to the sanitarium.
Nevertheless he was animated by pious zeal which was matched by a positive genius for organization. After his ordination he formed a movement called the Knights of Mary Immaculate, which was devoted to propagating traditional Marian devotion, and launched a series of journals. One of them achieved a circulation of eight hundred thousand in Poland. He also organized a community called City of the Immaculate, which grew to include 762 Conventual friars, the largest religious community of men in the world.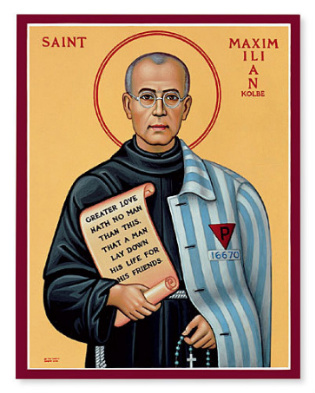 All this time he remained a beacon of faith to his fellow prisoners, encouraging them to pray and counseling them against despair. His final passion began when he entered the death bunker in July 1941. There was nothing for the inmates to consume but their own urine. Kolbe passed the days leading his companions in prayer, preparing them for death, and keeping vigil with them as they gradually succumbed. By August 14 Kolbe and three others were still alive, at which point the Nazis grew tired of waiting any longer. The four were dispatched by injections of carbolic acid; their bodies were cremated in the camps ovens.
"These Nazis will not kill our souls, since we prisoners certainly distinguish ourselves quite definitely from our tormentors; they will not be able to deprive us of the dignity of our Catholic belief. We will not give up. And when we die, then we die pure and peaceful, resigned to God in our hearts."
Page created on 12/2/2008 12:00:00 AM
Last edited 12/2/2008 12:00:00 AM
The beliefs, viewpoints and opinions expressed in this hero submission on the website are those of the author and do not necessarily reflect the beliefs, viewpoints and opinions of The MY HERO Project and its staff.

Bibliography
Ellsberg, Robert. All Saints.
Catholics , 20th Century . "St. Maximilian Kolbe: Apostle of Love." 20th Cent. Catholics.