Rose Todd Stanford
by
Jessica from Sycamore Junior High
Everyone knows what a hero is, but do you know what characteristics it takes to be a hero? Everyone has different opinions of how a hero should be, but let me take you into my perspective of what I think a hero is. Her name is Rose Todd Stanford. Rose Todd Stanford is a very strong woman with great courage and hope of fighting her disease of HIV. I believe that Rose Todd Stanford is a true hero.
Rose Todd Stanford is a 46 year old woman. She lives in Cincinnati, Ohio. At that moment, Rose had a terrible addiction to drugs and was about to kill herself. As soon as she was about to step in front of a car she stopped and thought to herself, God was telling her not to kill herself. Rose immediately got treatment for her drug addiction at a nearby hospital and was ready to begin her new life.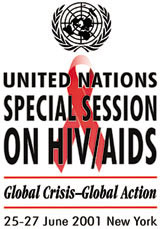 A few years later Rose was perfectly healthy and is in a relationship with a man. She was soon to find out that she was diagnosed with HIV. Rose was very depressed when she heard the news about her disease, after she had just gotten over her drug addiction, but Rose did not spend all her time being depressed. Rose had other sicknesses from taking too much, or too many kinds, of her medications. Her medications were causing too many problems of fat inside her body. After a few months had passed, Rose was finally in a healthy condition. She volunteered for clinics, was a leader of help and support groups of HIV and gave HIV testing in hospitals.
Rose, to me, was an amazing example of a true hero. She fits within, "A Hero Within." Things that refer to Rose, as a Hero Within, are that Rose had courage within herself that she could be healthy again from her disease. As Rose was fighting her disease, she volunteered for support and help groups for HIV victims. Rose was a leader of an HIV group with women who were fighting the same disease she was fighting. She also worked in a hospital to give HIV testing and any advice on HIV, of what they should do or should not do.
Just now, you have stepped into my mind of how I think a great hero is. You should believe more in yourself, that you are able to fight something. Everyone has different opinions of how they think a hero is. Rose Todd Stanford is my great hero. She may be still fighting HIV, but I believe that her goal will be successful.
Page created on 10/29/2005 12:00:00 AM
Last edited 7/10/2020 5:13:20 AM
The beliefs, viewpoints and opinions expressed in this hero submission on the website are those of the author and do not necessarily reflect the beliefs, viewpoints and opinions of The MY HERO Project and its staff.
Extra Info
O' Farrell, Peggy. "HIV: No Longer A Death Sentence." The Enquirer 24 July 2005. 11 Oct 2005