Dr. Stefan Kruszewski
by
Joy Wolf
Dr. Stefan Kruszewski is a three-time successful whistleblower with settlements from lawsuits brought against pharmaceutical giants Pfizer and Astra Zeneca as well as the Pennsylvania Department of Public Welfare in 2007. The Pennsylvania Department of Public Welfare fired Kruszewski after he alerted his superiors to inadequate care and exploitation of state -committed mentally ill children though overmedication and physical restraints while working for the Department of Public Welfare in Pennsylvania. He was fired for blowing the whistle, but won his First Amendment case in the courts.
"For me, whistleblowing is not a theoretical exercise. It has a human face and tangible features. It is the face of children and adults who have been injured or killed by misrepresented pharmaceuticals; clinical research trial results that have been sequestered from the scientific community and whose incomplete findings cause injury; and pharmaceuticals that are detailed to physicians, not to save lives or necessarily improve the health or welfare of the recipients, but to make money," Kruszewski said.
Kruszewski netted $29 million for his role in Pfizer's $2.3 settlement over mismarketing of a painkiller and antipsychotic drug. He also received $45 million from AstraZeneca's $520 million settlement with the Department of Justice when he demonstrated problems with off-label marketing. Off -label marketing promotes uses and doses, which have not been approved by the US FDA leading to heightened, but often non-transparent, risk to the health of patients and exceptional costs to taxpayers and state and federal governments.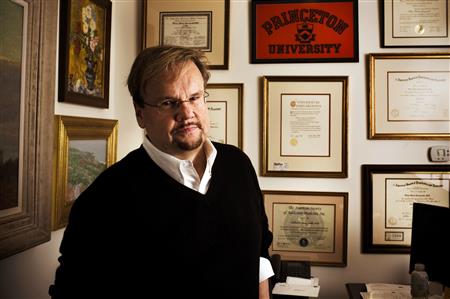 "More than a few of these doctors are psychiatrists who have received tax-supported, public National Institutes of Health and National Institute of Mental Health funding for clinical research, have participated in U.S. Food and Drug Administration advisory panels or have appeared on, or on behalf of, various not-for-profit psychiatric advocacy boards -- some of which are heavily supported by the manufacturers of psychiatric medications. Multiple authors had recommended specific antidepressant therapy but failed to reveal that they were being paid by multiple antidepressant manufacturers to speak, advocate and do research for the companies that sold the drugs," he said.
"Drug promotion and clinical decision-making that are brokered on the backs of dollar bills have a greater chance of causing serious adverse outcomes, including illnesses and death. If a physician embellishes the effectiveness of a drug or minimizes its risk, that directly hurts you and me. Physicians who are heavily supported by pharmaceutical companies and medical device makers are not forming independent, unbiased decisions. Instead, their brains have been lined with gifts, perks and money, which influences their rose-colored opinions. Conflicted clinical research -- often done especially by and for a particular psychiatric pharmaceutical manufacturer -- whose design and analysis are biased and whose summary and conclusions are misleadingly positive; fracture the backbone of scientific research. The legacy of fraudulent research lingers for years before it is recognized and repudiated. That effort impedes real progress, wastes time, money and human resources that could be focused on finding real cures to help all of us. And that's not good for anybody."
Page created on 4/2/2016 12:00:00 AM
Last edited 4/2/2016 12:00:00 AM
The beliefs, viewpoints and opinions expressed in this hero submission on the website are those of the author and do not necessarily reflect the beliefs, viewpoints and opinions of The MY HERO Project and its staff.