"Ask not what your country can do for you, but what you can do for your country." - John F. Kennedy
When I think of a hero, I think of someone who is selfless, someone who dedicates their life to helping others despite the obstacles he/she has had to overcome in life. A hero is an honest person who is brave and is not afraid to stand up for what he/she believes in. This person achieves so much in their lifetime, yet they are modest and humble.
Growing up in a house in Philadelphia, Pennsylvania, in a normal family with two older brothers, a mom and a dad, who knew that Stu would later become someone's hero? He and his family lived in a nice house with a big lawn and their German shepherd named King. But Stu's childhood wasn't the easiest. His father was diagnosed with lymphoma at the age of 35. He went into remission for seven years, but then the cancer came back, and 2 years later, at the age of 44, Nathaniel died. Stu was only 14 at the time, but he overcame this hard time in his life with the support of his family, and came out a stronger person because of it.
After high school, Stu went on to graduate from Penn State. After completing Officer Candidate School, he was commissioned as an officer in the Marine Corps right out of college. He knew that he had wanted to be a Marine since he was in high school for the challenge and to serve his country on what, in his opinion, is the best military organization.
Stu married his wife Sherrie in 1986, and in 1989, Stu and his wife Sherrie gave birth to a baby girl named Caitlin. But, unfortunately, Stu wasn't able to be there for his daughter's birth. He was on the other side of the world on a Navy ship in Thailand. While both Sherrie and Stu were upset about the fact that he could not be there for the birth, they knew that he had a duty to his job, and Sherrie was very proud of him for all that he did for their country. His ship returned three months after Caitlin was born, and he was able to spend time with his family again. This shows the loyalty he had for all of the important things in his life. Despite all of his work, he was able to balance his time so that he could be with his family also.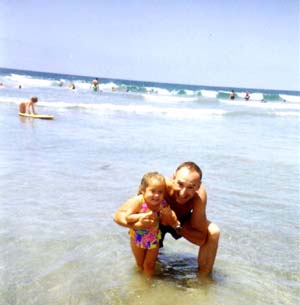 The family made two more moves after Caitlin was born. First, they moved to Newport, Rhode Island where Stu attended the Naval War College and got his master's degree. Then, the family made their final move to Virginia where he was the Head of Department that taught ethics and leadership to the Marine Corps' school for captains taught at the Amphibious Warfare School, the school that he himself had attended nine years earlier.
Although Stu can be highly commended for his work as a Marine, he was very successful in his role as a father also. In the summer, when he lived in California, he would go to Beach Coronado almost every Sunday with his family. He loved to spend time with his wife and daughter. He played with Caitlin all the time, taking her to the park, teaching her how to ride a bike, and playing with her on the playground. He was a great family man.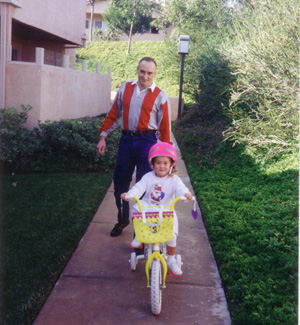 His family was living happily in Virginia, when Stu was offered a job he couldn't refuse. He was to be the Commanding Officer of Marine Security Force that guarded the nation's nuclear weapons. It was very important to him, but it involved moving to Kings Bay, Georgia for two years. Instead of uprooting the happy family, and making Caitlin switch schools, he decided to move to Georgia by himself and come home to Virginia every weekend. His job was not an easy one, and neither was the car ride. It took him eight hours to get home from Georgia. He would get in late Friday night and leave around noon on Sunday for another eight-hour car ride to get back to work. This was not easy on Stu or his car. One time, when he was driving home from Georgia, his 14-year-old Volkswagen, with over 400,000 miles on it, broke down on the highway. This is proof that he was so completely devoted to his family, that Stu was willing to do whatever he had to do in order to be with them.
After 22 years of service, Stu retired from the Marine Corps. He finally moved back to Virginia to permanently live with his family. He started working as the Head of the Leadership Department in the Henrico school system in Richmond. He taught a civics class and had an ROTC program to give the intercity kids a chance for a future that they might not have had otherwise.
He then moved onto teach in Prince William County to teach leadership education to at-risk youth during the school year and in the summer. He also started a program focus to teach leadership and character development to students with limited English language who are often lured to gangs. He was the first to ever start a summer program in his school to give his students something to do and keep them out of trouble. While working very hard at his job, Stu is also attending graduate school so that he can eventually become a guidance counselor. He is very admirable for basically dedicating his life to helping others.
Apparently, I am not the only one who feels this way about Stu because he was nominated for Who's Who Among American Teachers this year. This is a program where students nominate a teacher who has most impacted there lives. And Stu was not only nominated, but he was actually selected as one of the nation's most respected teachers. He will be published in the 2005 issue of the book Who's Who Among American Teachers.
Stu is a selfless person who helps people who are less privileged than himself whenever he can. He served his country for 22 years, and now he is serving his students at school. Despite the obstacles he has had to overcome, he is the strongest man I know and an inspiration to all. My name is Caitlin , and my dad is my hero.
Page created on 10/2/2014 7:58:11 PM
Last edited 10/2/2014 7:58:11 PM