In choosing an "official" hero, I thought I should probably do a mental scan through my personal catalogue of luminary figures--but that didn't work. The truth is that I simply couldn't get one name out of my head, and that one name was drowning out all the rest. It was the first name that popped into my head when asked who my hero is. That name belongs to Jennifer Bird, my older sister.
So, although I felt like I somehow ought to choose amongst the coaches, teammates, and legendary sports figures who have all influenced me in important ways--none of these in the end are my one true hero. Jen is.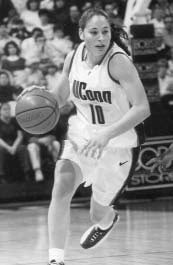 Why? For so many reasons, I could probably fill an entire book. She is caring, kind, and intelligent. But most of all, she's real--with no pretensions, and no airs. She never loses sight of who she is. That's something I've tried to learn from her. For instance, I had many college scholarship opportunities, and a number of people were pushing me to choose Stanford, one of the best universities in the country, or Vanderbilt, which is also an excellent academic institution. But when I visited the University of Connecticut, I knew that the University of Connecticut and head coach Gino Auriemma would be the best fit for me, both athletically and academically. Even though there was quite a bit of pressure for me to choose one of the other schools because they're perceived as stronger academically, I followed Jen's example and stayed true to myself, even it that meant taking a risk. It was absolutely the right choice, and I owe it to Jen.
For me, heroism, and the true measure of a person's character, is all about how you handle adversity. "When the going gets tough, the tough get going." My whole family actually scores high points in this regard, but Jen takes the cake. She's always steady, no matter what ups and downs life serves up. I admire this about her. Maybe the most significant contribution that Jen has made to my life is that she has taught me--by word and example--how to be a role model. When Jen and I were younger, I idolized her. I was the little sister who wanted to do what she did, wear what she was wearing, and play the same sports that she played--like basketball. Admiring someone like that is a very powerful thing, and I'm not sure how common it is to find between siblings. I was in competition with her, as many sisters are, but in my case I think it was more about being good enough to make her proud than it was about beating her.
As a sports figure with a high profile, I am aware that many young girls and boys now consider me to be their hero. It's something I am really proud of. When I grew up, there weren't very many female athletes on television or in the news, so as a little girl, the athletes that I looked up to were mostly male. There is nothing wrong with that, but I think it's really important for girls and boys to be able to see female athletes on ESPN and the other networks, playing professional sports. Little girls may still be influenced by male athletes--or musicians, teachers, or their parents, for that matter--but now they'll at least have the choice. Im proud to have been part of this transformation in the sports world, and whatever positive impact that change might have made on us as a nation.
It is a wonderful honor to be a role model, but I also recognize the responsibility that comes with it. I'm reminded of that responsibility every time I open fan mail from all over the world, or see someone wearing my jersey in the stands, or sign a ball for a little girl. For me to remain deserving of this role, I know the key thing is to stay myself--a middle class girl who grew up a tomboy, just playing the game I love. No matter how great my accomplishments on the basketball court, what counts is that I stay grounded and humble in my pursuits. That's what Jennifer taught me. Thank you, Jen. You will always be my hero.
Page created on 2/7/2010 12:00:00 AM
Last edited 8/28/2018 1:24:29 AM
Related Links
UCONN Huskies Women's Basketball
- Learn more about Sue Bird and other all-star college basketball players on the official site of UCONN's women's basketball team.
WNBA website
- Established in 1996, the WNBA provides the opportunity for women basketball players to play professionally.