Ananda Sukarlan was born in Jakarta; on June 10th ,1968. He was born under the sign of Gemini and a monkey according to the Chinese zodiac. He is the seventh and also the last child from Mr. Sukarlan and Mrs. Poppy Kumudastuti.
He was born and raised at the very center of metropolitan Jakarta, Indonesia. This brilliant Indonesian pianist left his country after he graduated from the Jesuit's Canisius High School for Boys in 1986. He got a scholarship from Petrof Piano, Jakarta; to study in Den Haag Kingdom Conservatorium, Holland. Unfortunately, before he graduated, Petrof Piano stopped the scholarship for him. He didn't have money at that time, but he didn't want to stop his study before he finished it. He was not hopeless. He tried to earn money by working as a piano player in some bar and borrowed from his friends. But all his money that he earned was not enough for paying for his piano studies. One day, he got an idea to joined an international piano competition. He thought that he might get some money for paying back his friend's money and his study, if he won it.
After all his struggles, he finally graduated in 1993 with a summa cum laude. He won many international competitions within three years following his graduation, which is his ticket to ride for a career as a pianist.
He started his music lessons at the age 5 years old from his older sister, then he studied in The Jakarta Music School (YPM) for six years. When he studied in Holland, his talent showed up and his skill got better. He joined some international music competitions in Spain and France.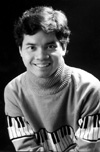 He plays as soloist with the best orchestras and ensembles such as Berlin Symphony, Madrid, Spanish Radio & TV, Bilbao, Orleans, Rotterdam, Barcelona, Jakarta, Wellington, etc. "Since the fall of Suharto's dictatorship in Indonesia, he has performed for all the presidents of Indonesia, and was the first artist in history to perform in the Presidential Palace. He was also the first Indonesian artist who was invited to perform in Portugal after the diplomatic relationship between the two countries was reestablished in the year 2000, and also to perform for Queen Sofia of Spain. Ananda Sukarlan is the dedicatee of more than 100 works for piano (solo, duo or concerto with orchestra). Each one of the composers of Musica Presente, Spain, has written at least one substantial work for him."
Ananda is a person who lives his life to the fullest, does everything with passion and enjoys it immensely either when he is home among the hills of Cantabria (20 minutes from Santander, a very small town north of Spain) or during his travels. "Although he is a party animal, he is also a fiercely private man in many aspects, as if he wants to make sure that nobody really know who he is."
"He has examined thoroughly the history of music, played more music by composers of the 20th century than many other musicians of his age and, with an instinct as sharp as a successful Wall Street stockbroker, he picks, performs, defends and champions new masterworks of music before anybody was even aware of their existence and convincingly puts them in an important place in the music history." With all his achievement, Ananda become the first Indonesian pianist who be written in The International Who's Who in Music book.
Page created on 4/6/2006 12:00:00 AM
Last edited 4/6/2006 12:00:00 AM