Yohanes Surya
by
Fadillah from Jakarta
With his steady hands and bright mind, he prepares students of physics to win International Physics Olympiad
I like physics and I have even been chosen to be a participant in the Jakarta Physics Olympiad. My achievement in the field of physics cannot come true without the motivation and encouragement I get from this special person: Yohanes Surya. I like his way of life as a scientist. It's so interesting and he's so brilliant. He has really a wonderful brain, so smart, very skilled at teaching physics, so that physics can be easy for students to understand. In my opinion, he deserves to be my role model, my idol, my hero. He wrote a marvelous book in physics Fisika Itu Mudah (Physics is Easy) which inspires me very much.
Yohanes Surya was born on 6th November 1963 in Jakarta. He started to study in Pulo Gadung Petang II Elementary School, 90 Junior High School, and 12 Senior High School. Nothing special in his secondary education.
In 1981-1986, he continued to study in Department of Mathematics and Science, University of Indonesia, majoring in Physics, and he passed with a good score. Since his higher education, his brightness in physics has shown up. He got a Fellowship from the College of William and Mary in Virginia, USA. In 1990 he achieved a master title in Physics.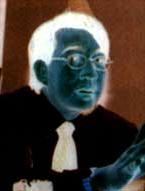 He got many awards in Physics too. In 1992, he had graced CEBAI/ SURA award as one of the best students in Nuclear Physics in the Southeast region of the U.S. In 1993, he got a Zable Fellowship. In the same year, he was the first Indonesian pioneer to join the International Physics Olympiad Team (TOFI) and the International Physics Olympiad (IPHO) to XIV CEBAI (Continued Electron Beam Acceleration Facilities) as a Theory Physics Consultant. He continued the study (got a Research Assistantship) and in 1994, he achieved a Ph.D title (Doctor of Philosophy) in Physics with grade "A" for all the lessons of university and research. In 1994, he went back to his homeland, Indonesia.
With his steady hands and bright mind, he prepared students of physics to join International Physics Olympiad, and he really made it! In 1999, Indonesian TOFI team succeeded to get a gold medal in IPHO XXX in Italia. Now, he is active in teaching physics for physics teachers in Indonesia and he also does research dealing with Nuclear Physics. He is a Vice President of the First Step to Nobel Prize, as well. He prepares Indonesians to be Nobel Prize Winners in 2020. Wow! Very good luck, Yohanes!
Page created on 7/30/2006 12:00:00 AM
Last edited 7/30/2006 12:00:00 AM
The beliefs, viewpoints and opinions expressed in this hero submission on the website are those of the author and do not necessarily reflect the beliefs, viewpoints and opinions of The MY HERO Project and its staff.