Mrs. Suzanne Mubarak, affectionately known as "Mama Suzanne" throughout Egypt, is the First Lady of the Republic of Egypt. Mubarak is a champion for the rights of children and women. She works to eradicate illiteracy in her country, supports health initiatives for mothers and children, and is a strong advocate of equal education opportunity for all boys and girls in Egypt.
Mrs. Mubarak was born in Menya, which is a city located on the Nile River in Egypt. She studied at St. Claire Heliopolis in Cairo during high school and moved on to study at the American University in Cairo. She received a Bachelor's degree in Political Science and a Master's degree in Sociology of Education. For the Master's degree, her topic of study was "Social Action Research in Urban Egypt: A Case of Primary School Upgrading in Bulaq." She has two sons and one grandson.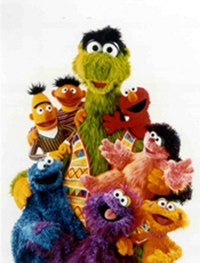 Mrs. Mubarak understands the power of communication and education in changing the world and serves as a patron of the children's television series, Alam Simsim, Egypt's version of the American series, Sesame Street. She affects positive change in her country, boosting literacy rates in Egypt and preparing young children for school, particularly young women. Mubarak supports this program because "Alam Simsim is intelligent children's programming that can instill certain ideas and values that are indispensable in today's world."
In Egyptian communities she supports Integrated Care Societies, which she founded in 1977 as a non-profit organization to provide social and cultural education, and health care. The center in Alexandria has a library and resource facilities to allow participation in sports and recreational activities, provide medical care and to help students improve their literacy skills. Literacy classes help improve reading among men and women, and there are computer centers with Internet access as well.
Suzanne Mubarak is the founder and president of EBBY, which is the Egyptian chapter of International Board on Books for Young People (IBBY). Mrs. Mubarak has arranged a campaign called Reading for All, which seeks to increase literacy by encouraging reading aloud to children. In addition, she has established portable libraries and published low cost books for children and adults. At a recent IBBY jubilee, Mrs. Mubarak summed up her goals and motivation, "Our joint mission continues to inspire and motivate all those who believe in the great value of children's books, the act of reading and learning in shaping a better future. Indeed, we must never underestimate the power of the word. It is through words and images that people have shared their thoughts and feelings, their fears and aspirations--and their dreams to create a better future, that is what IBBY is all about--shaping a better tomorrow."
Suzanne Mubarak is the technical advisor for the National Council for Motherhood and Childhood in Egypt. Some of the goals of the council include: the reinforcement of women's roles in society, the study and resolution of problems confronting women, the improvement of women's performance in society, the monitoring of education of children, and the establishment of a healthy environment for children.
The list of international awards that Mrs. Mubarak has received is long and includes: The International Tolerance Prize from the European Academy for Arts and Sciences, the Health for All Gold Medal from the World Health Organization in recognition for improving the quality of life for women and children, the Honorary Fulbright Award for commitment to education, and the International Book Committee, International Book Award for her work in promoting reading in Egypt.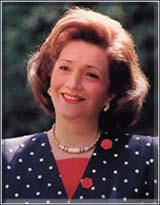 The most recent award for Mama Suzanne Mubarak is the important Making a Difference Award from iEARN, USA. iEARN is a non-profit global network that uses the Internet and technology to bring young people together for collaborative educational projects. The iEARN network includes 15,000 schools in 100 countries for a total of 1 million students engaged everyday in collaborative projects. These projects work to develop critical thinking skills, give experience with new technologies, build cultural awareness, and create involvement with community issues. As the work of Mrs. Mubarak shows, iEARN and she are close allies in the work towards the improvement of global education. Mama Suzanne spends everyday working to "Make a Difference."
Page created on 8/25/2011 12:00:00 AM
Last edited 1/5/2017 9:02:07 PM
Related Links
Biography of Suzanne Mubarak
- The Egyptian presidency's site has a brief biography on the first lady, as well as one for her husband and Egyptian president Hosny Mubarak. You'll also be able to listen the the Egyptian anthem and learn a little more about the country.
Amnesty International 2005 Report on Egypt
iEARN
- is a global community of teachers and students working on collaborative projects.