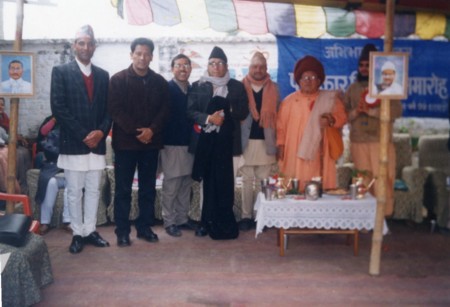 Nepal is a country where the caste system exists. People are considered higher and lower according to the family they are born into. When we say a swami, we often imagine them coming from higher caste Brahmin family. But Swami Prappancharya comes from Rai family, which is considered lower caste. People of this caste are usually farmers and also are employed in the army. But how he become a swami, a religious guru of the Hindus, is very important for us to know. His life is full of struggle and his struggle is still going on, even when he has reached 85 years of age. Dr. Swami Prappannacharya was born in 1923 in a secluded village of Bardanda, Panchthar of Mechi Zone in Nepal on the auspicious day of Vijaya Dashami (a famous festival of Hindus). His father Dhambe Rai and mother Dilkumari belonged to Nampicha Dewali Chamling Rai family. They followed Josmuni religion and were vegetarians. In childhood he was very mischievous. He remembers the time once when his mother beat him up by binding him with rope. Most of his childhood was spent as a cowboy. He remembers being beaten up by his family when he ate food with people considered lower caste than his family. He did not like the system of lower caste and upper caste. Since his childhood, he thought all people are equal. Due to this belief, he left home because his family did not like his behavior.
After he left his home, his life was even more filled with struggle. He spent his life by working under several people doing many kinds of work. In one of the homes, he saw an educated boy who was working with him was treated better than him. This made him realize how important education was. He was illiterate till then. He learnt his first alphabet when he was thirty years old, an age when most of the youth finish their education. He went to India for education. There also he met various difficulties. He wanted to study Sanskrit. But because of his Mongolian outlook, he was rejected. But he continued his struggle and ultimately he was successful to do a doctorate in Vedic Philosophy. He was 60 when he was able to do so. Then he returned to Nepal and wrote many books in Sanskrit, Hindi and Nepali. He wants to write more to share his knowledge with the people. His book, " Vedama Ke Chha?", "What is in Veda?" is very famous since it has been able to describe the teachings of Veda in simple words that everyone can understand.
He is also a famous historian of Nepal. He has written historical books based on his research on Kirati people and their culture. He has received many awards too for his contribution. He has also visited all over Nepal. He visited all over Nepal i.e. 14 zones and 75 districts which the minister, prime minister, even king had also not visited. Similarly he had visited other countries Burma, Thailand, India, Sri lanka, Bhutan, China, Tibet, Arab, England, Ireland, Scotland, Austria, Germany, Italy, Switzerland, Holland, Belgium, Luxemburg, France and America.
Many people have happy as well as sad moments in their lives but he did not have any happy moments during his life. Now he is eighty-five years old, but also he has not got any happy incidents in his life. Most of the people have got friends in their life but till today also he has not got any one friend to share his feelings. Till today also only sorrow are his friends. We knew this when we went to interview him. We know that when he will die, he will be very much praised for his work. People will say great things about him. But he is all alone right now. He does not have a proper place to live. He does not have more disciples like other big swamis of Nepal have. Till recently, he was a member of Raj Parishad headed by king. After a movement in Nepal in 2006, that organization stopped its work. This has been great blow to him as he has nothing to live upon.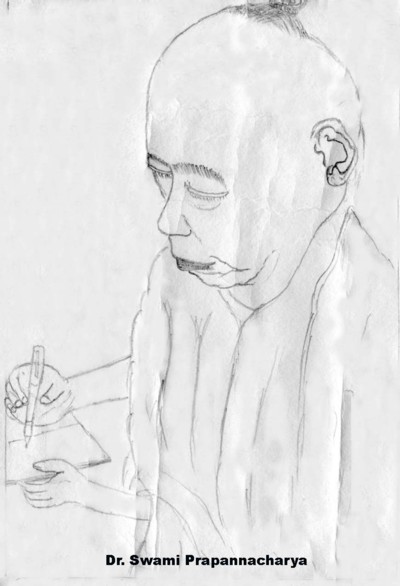 We have chosen him hero because even though throughout his life he faced difficulties, he did not give up. His life is a message that you can start anything when you want, age does not really matter. He has worked so hard to preserve culture and tradition of Nepal. It inspires us and we also want to work in his direction. While he talked with us, he was so alone, without any support. But still, he was trying to smile, trying to help us in our work. So, he is truly a hero.
His Message to the Children of the World:
He says life is full of struggle, but we should never give up. He says one should always try to be good at heart. Trying just to be beautiful from outside is not important. We should try to be beautiful by our good deeds and good work. We should love our mother and motherland. Some people find other countries better and want to leave their country. It is okay to go to other people's country for a short time, but we should work for the development for our own country. He also says that we should always respect the person who gives us comments. Because he/she helps us to be a better person by reforming our bad sides.
Page created on 1/21/2007 9:27:27 AM
Last edited 1/4/2017 11:49:08 PM