Terrance Stanley Fox
by
Braden from Calgary
"Anything is possible if you try. Dreams are made if people try."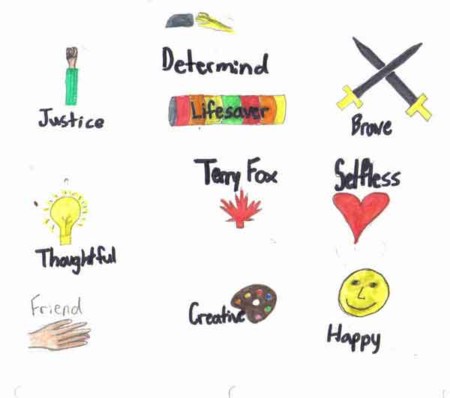 Terrance Stanley Fox was born in Winnipeg, Manitoba on July 1958. When Terry was about four years old he moved to Port Coquitlam in British Columbia. Terry Fox's family was not very wealthy. Terry's mother, Betty worked as a homemaker. His father Rolly, worked as a switchman for Canadian National Railway. Terry had an older brother named Fred,a younger brother named Darrel and a little sister named Judith. He also had a very special friend that he met in school named Doug Alward. Their friendship lasted the rest of Terry's life. He played soccer, baseball, rugby and competed in track and field but the sport he loved the most was basketball. When he grew up he wanted to be a High School physical education teacher. When Terry was in university he started to feel horrible. His leg was hurting really bad. Terry tried to ignore it but after a few months he just could not stand the pain so he told his Mom and Dad. They took him to the hospital. The doctor discovered Terry had cancer in his right leg and was forced to amputate it 15 cm under the knee. After Terry had his leg amputated, he read about Dick Traum who ran The New York Marathon with only one leg. Terry Fox had a dream that one day he would run across Canada to help raise money for cancer research. This was a way Terry could help other people with cancer.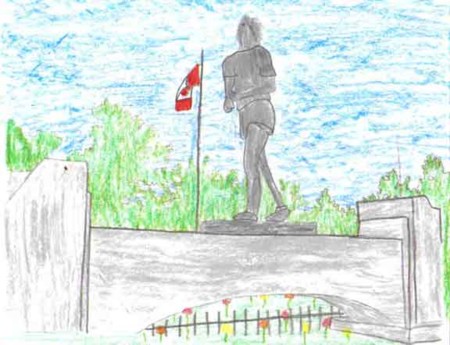 Terry Fox's life was remarkable and admirable because he helped raise millions of dollars for cancer research. One trait Terry had that was helpful to him was that he did not spend a lot of time pitying himself after his leg was amputated. What people should learn from Terry is that when something bad happens, don't pity yourself or think only of people who are better off than yourself. Don't let things that are out your control make you have a bad attitude. Another thing you can learn from Terry is to finish things that you have started and don't quit no matter what problems you face. Terry's family was extremely helpful and really cared for him. If it were not for Terry's parents support he could not have ran as far as he did. Another person that influenced Terry was Dick Traum, a one legged runner who ran the New York Marathon. Dick Traum gave Terry the idea to run across Canada. I think that Terry was a really courageous person and made no mistakes in his life. If I were Terry I would have done everything the same as he did. I think some people make enemies not because they are bad people but because they are misunderstood. Terry did not seem to have any enemies because he was kind to people and he believed that the children who had cancer were far more courageous than he was. One of Terry's beliefs that he followed was "Anything is possible if you try. Dreams are made if people try."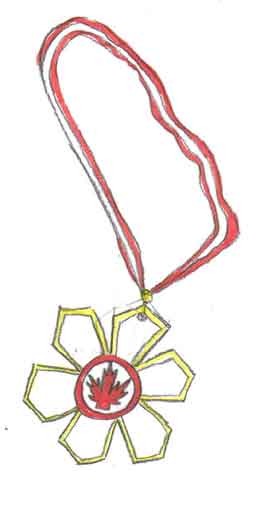 A Hero is different than just being a celebrity because heroes save lives. Terry Fox was a hero because he risked his health to help others. He did this by trying to run across Canada with only one leg knowing it could cost him his life. His determination to help raise awareness and money for cancer research was greater than his fear. Terry's heroes were the children suffering from cancer. He thought the children with cancer were more courageous than him. Terry Fox never lived in a permanent spot while he ran across Canada he stayed in a different spot each night. One night just outside of Thunder Bay, Ontario, Terry felt sick. His friend Doug drove Terry to the hospital where they discovered that his cancer had spread to his lungs. Terry's run lasted 143 days. He died on June, 28, 1981. Terry's sister, two brothers and parents are still alive. Terrance Stanley Fox was awarded the Order of the Dogwood, B.C.'s highest civilian award and also became a Companion of the Order of Canada. Since Terry has died he has had schools, parks, and even a mountain named after him (Mount Terry Fox). I chose Terry as my hero because I am amazed at how determined and selfless this person was. I also can't understand how someone would think of running across Canada. From Terry Fox I have learnt that I should not want everything. I should think of the people worse off than me and not be jealous of the people better off than me. I found out from Terry that if you put your mind to something anything is possible.
Page created on 4/21/2007 12:00:00 AM
Last edited 4/21/2007 12:00:00 AM
The beliefs, viewpoints and opinions expressed in this hero submission on the website are those of the author and do not necessarily reflect the beliefs, viewpoints and opinions of The MY HERO Project and its staff.