Terry Fox
by
Mat from Calgary
Somewhere the hurting must end
Terrance Stanley Fox was born in Winnipeg, Manitoba on July 28, 1958. Terry lived in Winnipeg for about eight years then he moved to Port Coquitlan, British Columbia. Terry's dad, Rolly, was a Canadian National Railway switchman, his mom Betty worked as a homemaker. Terry had one older brother, Fred, a younger brother, Darrell, and a sister, Judith. His favourite subject was biology. Before he had his leg amputated he wanted to become a P.E. teacher. Terry won a baseball trophy when he was nine, and he finally got on the school basketball team after trying for a year. At the age of 18 Terry had his right leg amputated because of bone cancer, Terry was awarded the Canadian Champions trophy for wheelchair basketball in 1978.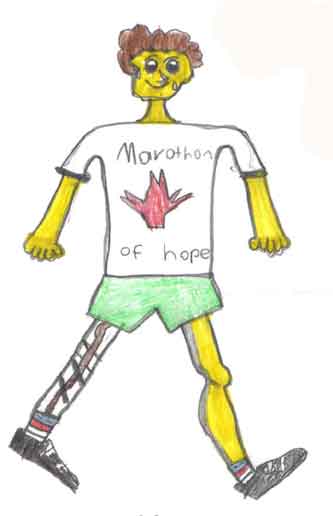 Terry Fox is remarkable person because he lived five years of his life on one leg. Then he decided to run across Canada to raise money for cancer research. But he only made it two thirds of the way (3,339miles, 5,374 km) on one leg. Which is amazing because most people couldn't even do that on two legs. I think Terry Fox is brave, humble, and strong hearted. Because of Terry's outrageous stamina he has made people live longer with the cancer funds he raised. Terry Fox fought for his life, he fought for what is right and he is a giving person. Terry Fox was a determined person and he was also selfless because when he tried to run across Canada he wasn't thinking of himself. He was thinking of other people with cancer. Terry's best quality is determination as it helped him get through the Marathon of Hope and most of his life. Two of the most important lessons I have learned from Terry are never give up or you won't succeed and if you chase your dreams they will come true.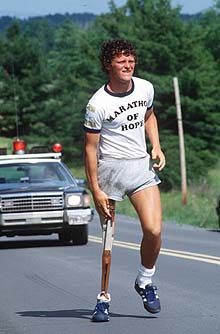 I think a hero is someone who people look up to, someone people follow. I think Terry is a hero because he is someone lots of people admire and love, just like me. Like me Terry had someone he admired. The person he had admired was Dick Traum who had run one-legged in the New York City Marathon. Just as Terry was diagnosed with lung cancer he went back to his home in Port Coquitlan. Not long after being back home he died on July 2, 1981 with all family members watching as my hero faded away in the morning sun. On September 18th, 1980 Terry was awarded the: Order of Canada. On October 21, 1980 he received the Order of Dogwood which is the highest honour a civilian of British Columbia can be awarded.
Terry Fox
A Story of Hope
By: Maxine Trottier
Page created on 3/5/2007 12:00:00 AM
Last edited 3/5/2007 12:00:00 AM
The beliefs, viewpoints and opinions expressed in this hero submission on the website are those of the author and do not necessarily reflect the beliefs, viewpoints and opinions of The MY HERO Project and its staff.

Related Links