Theodor Seuss Geisel
by
Danielle from Bradford, Canada
Don`t cry because it is over; smile because it happened! ;)
Theodore Seuss Geisel,was born on March 2 1904 in Springfield Massachusetts. His father was Theodor Robert, mother Henrietta Seuss Geisel, wife Audrey Diamond and he had 2 children, a boy and girl. Theodor Seuss Geisel went to Dartmouth College in Hanover, New Hampshire and in 1925 he went to Oxford University in England. Theodore loved art as he doodled more and more, he loved it so much.
Theodor Seuss Geisel had many challenges in life. He was born during World War I but he still had such a happy childhood. His mother read rhymes to Theodor and that also helped Theodor being better at rhymes. Also Theodor credited his mother with both his ability and desire to create the rhymes which he was so well known for. Making books is a hard part in life of authors and illustrators' lives. They all have helped us learn and have fun while reading too. Theodore worked hard to write and illustrate books for all of us to read.
Dr. Seuss is trying to make this world a better place for others, by making sure everyone enjoys reading, writing and learning. Also he is trying to make sure you get a great education in school and don`t care what kind of book you are reading as long as it is funny, sad, happy or any more just enjoy it. My hero made many books for others and that is how you get a good education by reading and writing just like he did but that's not all to get a good education. You have to listen, learn, work and enjoy what you are doing and more too. Theodor is not just about books. He is also about family, life and much more. Some of the books he wrote are; The Cat in the Hat, Green Eggs and Ham, Oh, All the Places You Can Go, Horton Hears a Who, Horton Hatches and Egg, and Sneeches. Some of his books teach us lessons, like Sneeches teaches us to respect people's differences.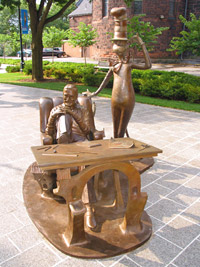 Dr. Seuss is not alive right now because of the cause of cancer. He died on September 24 1991 at Los Angeles CA. He still had a happy childhood, got in a great college and university had a family he could love and care for. He should be very proud of himself.
Dr. Seuss had a goal and that goal was that he wanted to write books that were easy to read. He also wanted to make reading fun. He reached his goal. Everyone has fun reading a Dr. Seuss book. Isn't it nice to know that you are never too old to read a Dr. Seuss book. Dr. Seuss has inspired me to write and have fun while you are doing it!
Page created on 4/11/2007 1:28:40 PM
Last edited 4/11/2007 1:28:40 PM
The beliefs, viewpoints and opinions expressed in this hero submission on the website are those of the author and do not necessarily reflect the beliefs, viewpoints and opinions of The MY HERO Project and its staff.