CONTACT: Wendy Milette FOR IMMEDIATE RELEASE
TREY CARLISLE WINS MY HERO'S 2016 EMERGING ARTIST AWARD
SANTA MONICA, CA - 11/21/2016 - The MY HERO Project is proud to announce Trey Carlisle as the recipient of the 2016 Emerging Artist Award. Since 8th grade, Carlisle has been telling important stories to fight injustice, and has produced award-winning documentaries that speak out against violence and discrimination. Trey's is a passionate voice for positive change in the world.
Deeply committed to social justice, Carlisle learned about filmmaking through The Righteous Conversations Project, an organization that pairs teens with Holocaust survivors to share their important stories. When he had an opportunity to travel to Cambodia with a group called Digital Storytelling Adventures, he created the short film "Us and Us", a documentary about dehumanization.
A former child actor, Carlisle grew up watching superhero cartoons and fantasized about being a superhero himself. After creating short documentaries and PSAs that addressed issues of human trafficking, gun violence and discrimination, he decided to try something new. He combined his interest in The Holocaust with his interest in The Cambodian Genocide, and The Black Lives Matter movement, to create the documentary that addresses modern day social ills.
Cheri Gaulke, Righteous Conversations artistic director and Carlisle's mentor on his Digital Storytelling Adventure documentary said, "As a boy, Trey came in with such passion for social justice, that it's wonderful to see him become a young man making a real change in the world. He is one of the most heartfelt young men I have ever met."
Carlisle currently serves as a youth ambassador for the Santa Monica Police Department, working with the chief of police on ways to improve relations between law enforcement agencies and at-risk youth.
Carlisle did a TED talk and created songs as an ambassador for the Music in Common Program, an organization that brings youth of different faiths together to have conversations that foster understanding and tolerance. He was recognized as a KABC Cool Kid for his work in mentoring youth as part of the Neighbor's Empowering Youth robotics program. As President of the Leadership Council for The Screen Actors Guild and American Federation of Television and Radio Artists' Looking Ahead Program, he helped young actors get educational and emotional counseling, and equips them with skills in leadership and community service.
Currently a student at Soka University of America, Carlisle is studying international relations and political science. He enjoys working at The MY HERO Project since it allows him to promote outreach and facilitate the development of MY HERO's Mobile Youth Empowerment Endeavor, a collaboration between MY HERO and Soka University, to equip underserved youth from low-income, foster homes, and homeless backgrounds with values in global citizenship and a multitude of career skills so they can live healthy and contributive lives. He accepted his award at the MY HERO International Film Festival on Saturday, November 19, 2016, in Santa Monica.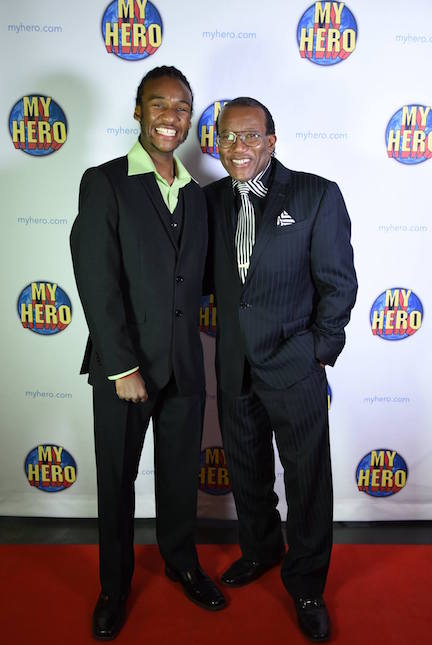 "I am eternally grateful to have been even considered for the Emerging Artist Award, and even more so honored to have been the recipient. To me, receiving this award is a testimony to the truth that the universe doesn't call those who are qualified; the universe qualifies those who are called. I never in my wildest dreams thought I would work with Holocaust survivors, create a documentary in Cambodia, and work with amazing organizations like the MY HERO Project. But, seeing how my life changed from a simple dream, I now believe that we all have the potential to better the world in our own unique way. This is the message I hope to pass to as many people as possible during my time on this earth," Carlisle said.
"Us and Us," and other winning films, can we viewed on the MY HERO website: myhero.com/winners.
The MY HERO International Film Festival is part of The MY HERO Project, a 501(c)(3) organization with a mission to celebrate the world's heroes through stories, short films, music and art. For more information, visit MY HERO's award-winning website www.myhero.com.
Page created on 11/23/2016 10:42:01 PM
Last edited 6/13/2020 9:09:14 PM