Toben Anderson is a very special friend of our family. We met Toben a number of years ago, not long after her first fight with breast cancer. Toben's mother sold my family our first home. We were introduced to Toben and her husband, Raul, through that connection. We very quickly became captivated by Toben's story and her battle with cancer.
Toben grew up in a family of four kids and was the only girl. Sadly, her little brother died at the age of five with cancer. Toben has had cancer four times. She loves to do art, make jewelry, cook, do sports and hang out with friends. Toben was born in Vancouver and raised in Boston, St. Croix, Banff, Calgary, Winnipeg, Toronto and Montreal. Toben's favourite subjects in school were Physical Education, Home Economics, Art, History and English. When she was younger she always wanted to be someone that helped people and a designer. Prior to her illness, she was in the fashion business. She owned her own importing business, importing Italian sportswear. She also worked as a sales and marketing manager for different fashion houses in Toronto and Montreal. She designed clothing for Mexx, too. With her diagnosis of cancer, she left the fashion industry, in part, due to what she viewed as an unhealthy lifestyle.
When she got sick she realized that she really wanted to live life fully. Her dream was to be happy, healthy, and to enjoy close intimate relationships with those she loved. She wanted to be honest and real and to be who she really was, not who she thought everybody wanted her to be. She believes that her cancer diagnosis was a gift. The disease itself is not the gift, but with the experience of the disease lies the gift. She now works as a professional speaker and talks to others about fighting cancer based on her experience and what she has learned about life.

Toben is my hero. She has had cancer four times, but that doesn't stop her. She learned from cancer that you should be happy to be alive and try to make the best out of some of the worst moments. Her first big undertaking after her cancer diagnosis was to help people see the positive side of cancer. She connected with a group of women from the USA who were breast cancer survivors who planned to climb a mountain to inspire people with cancer to fight, have faith and courage. Unfortunately, all the women in the USA were unable to follow through to go. Toben bravely continued on by herself with the support of a guide and trainer. She raised enough money to cover the cost of the climb. For her the climb and the mountain represented a metaphor - little person/big mountain. In the middle of the struggle, the pain, and the suffering you can find beauty and joy in everything. The mountain she climbed was called Mount Vinson, the highest mountain in Antarctica.
To prepare for the climb, she travelled to Mexico to climb volcanoes. It was here that she met Raul and fell in love. Raul was her Mexican guide who helped her with altitude training and who helped prepare her for the challenges of climbing Mount Vinson. The air for the noontime temperature in the summer is usually around -32 to -35•C. At the summit it is -75•C with howling winds. Any exposed skin would freeze instantly. Antarctica is a distant, hostile place, and yet magical, and in some ways it represented cancer in Toben's mind. There are always hidden gifts and she did not know what to expect. She set out to climb this mountain and she did it!!!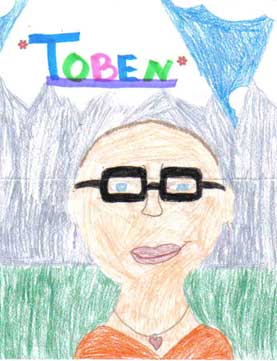 Five years later, the cancer returned in the lymph nodes of her arm and she had 4 tumors in her liver. Treatment was very difficult and the doctors gave her 1-3% chance to survive. Again, against all odds, she survived. Four years later, she found another tumor in the lymph nodes of her arm. With radiation treatment, the tumor disappeared. Her latest battle has been a hard one. Last year she discovered tumors in the top one third of her stomach, the bottom third of her esophagus, the lung, the kidney, and the bone. She has undergone more treatment and has recently received news that the tumors are all gone again!!!
Toben says that you can't fight cancer in a day, but she knew that she never wanted to give up and she believes there is always a chance. She loves life...it is important to live in the present moment.
Toben Anderson's life is remarkable because she has had cancer four times, but that doesn't stop her. She is admirable because she never gave up and she shares her experiences to help and inspire everyone around her. Toben is kind, supportive, generous and helpful. She is loved by everyone she meets. Two important lessons I have learned from Toben are to never give up and to believe in yourself. All things are possible and miracles can happen.
Toben has been recognized by the Canadian Cancer Society and does public speaking at various events. In conclusion, Toben Anderson is my hero because of her strength to carry on and her desire to help other people.
Page created on 3/6/2006 12:00:00 AM
Last edited 3/6/2006 12:00:00 AM