When one thinks of a hero they would probably think of a superhero like superman or batman. But when it comes to a Non-Fictional hero, a person like Tyra Banks should come up to your mind, right? Tyra Banks is my hero because she is a leader that speaks her mind and is an inspiration to young women nation-wide. She supports many of these young women in her organizations.
Tyra Lynne Banks was born December 4th, 1973 in Los Angeles. She is the daughter of Carolyn London and Donald Banks, and the little sister of Devin Banks, born in 1968. Her mother was a fashion manager and medical photographer while her father was a computer consultant. In 1980, when Tyra was only six years old, her parents got divorced. The relationship between the parents and brother stayed friendly. Even though Tyra was only six when this happened, she managed to stay strong.
Tyra's passion for acting and modeling was decided since she was a kid growing up. Tyra landed her first gig playing a reoccurring character on "The Fresh Prince of Bel-Air" as Will Smith's old friend, Jackie Ames. Other screen credits include Felicity, Mad TV, Coyote Ugly and The Price Is Right as one of Bob Barker's Beauty.
At the age of 17, Tyra was discovered in her home town of Los Angeles by Cover Girl to be a model. She was offered a healthy contract with the cosmetics company. Tyra became the third African American to secure such an opportunity. With her striking looks, Tyra appeared on over 20 fashion magazines covers. Most notable of these are GQ, Sports Illustrated and Victoria's Secret Catalogues. Banks became the first African American woman ever to grace these magazine covers.
In May 2005, Tyra retired from modeling to concentrate on her two TV shows, America's Next Top Model and the Tyra Banks Show. The Tyra Banks Show, also known as Tyra, premiered on September 12, 2005. This program is aimed at young women. The show features the stories of everyday people, usually women facing issues today and celebrity interviews, similar to the Oprah Winfrey Show. Tyra promotes her show using her personal flashbacks of her own childhood and adolescence. Oprah was a big inspiration for the show and helped her in the making of the show. In 2007, the show, in its third season, moved from Los Angeles to New York City. In late January 2008, Tyra Banks started to work on a new reality TV show based on fashion magazines. Currently, Tyra is living in Manhattan, New York City since she is filming her talk show in New York City.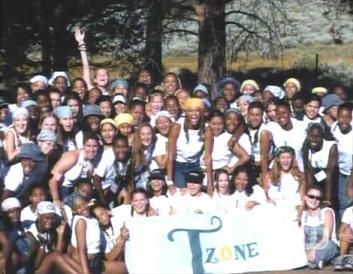 Tyra is also a supporter for many causes. She is passionate about environmental issues and has her own organization called T-Zone, established in 1999. T-Zone is a week long summer camp for teenage girls to enhance their independence and self-esteem. She is also the founder of "The Tyra Banks Scholarship." This is a fund that grants African American girls the opportunity attend Immaculate Heart High School, an all-girl private school located in Los Angeles.
Tyra Banks is My Hero because she inspires me along with many young women today. When, at one time, Tyra weighed 168 pounds, photos were taken of her in a swim suit. Tabloids made fun of her calling her "Tyra Pork Chop" and "Tyra is Fat." She fought back at the rude comments and she said "It wasn't so much the picture, it was the negative comments. If it was just the pictures and it went away I'd be like, 'Ha Ha. Whatever' to call that ugly, so many girls are seeing that and I needed to let them know that's not ugly." She also said "I get so much mail from young girls who say 'I look up to you, you're not as skinny as everyone else, and I think you're beautiful.' So when they say that my body is 'ugly' and 'disgusting,' what does that make those girls feel like?" Tyra cares very much about her influence to young women and strives to make them feel alright with themselves and their body image. Tyra once said "I think it's important for young women to understand my flaws." and "I'm a perfectionist, sometimes I have to remind myself that it's ok if there are flaws here and there." When she said those quotes that made me feel better about myself. She proves that no one is perfect, including the rich and famous. Everyone has trouble with their image. Tyra Banks is dedicated to helping young women by speaking her mind out towards them. To me and many other young women, that is what makes her a hero.
Page created on 5/8/2008 12:00:00 AM
Last edited 5/8/2008 12:00:00 AM