Thomas Alva Edison
by
Anthony from Las Vegas
"BE COURAGEOUS! WHATEVER SETBACKS AMERICA HAS ENCOUNTERED, IT HAS ALWAYS EMERGED AS A STRONGER AND MORE PROSPEROUS NATION...."
TThomas Alva Edison was a smart man who invented many new things. Edison was smart, courageous, creative, outgoing, and he never gave up. These are just a few reasons why some people might consider him their hero.
Edison invented the incandescent light bulb, phonograph, motion picture recorder, motion picture projector, and many other things. Thomas invented the incandescent light bulb because he thought that the electric light would be safer, and more efficient than the gas lighting systems that were already in place. He invented the phonograph so instead of dictating to a secretary who would sometimes mess up or miss-hear, or even miss-type, the dictators voice could just be sent to the person whom the manuscript would have been taken to. And he invented the motion movie projector/recorder so you could watch movies without people constantly acting it out, you could record one showing of the movie/play, and watch it many times.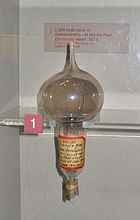 Thomas Edison was born on February 11, 1847 in Milan, Ohio. At the age of 11 Thomas moved to Michigan. Edison was home-schooled, because he struggled in public schools. Edison enjoyed reading, and conducting experiments. When he was 15, Edison got a job as a telegrapher, receiving and sending messages using Morse code. During his time working as a telegrapher for the Union Army, he enjoyed taking machines apart to see how they worked. And he soon decided that he would become an inventor.
Edison moved to New York and improved the "stock ticker" he made a company that produced these machines. And during that time, he was working on his own version of the telegraph that could send four messages at once, instead of one. And while all of these things were going on, he married Mary Stillwell, and they had 3 children. He moved to Menlo Park soon after.
In 1877 Edison invented the Phonograph. He proved his invention a success by recording "Mary Had A Little Lamb" on a sheet of tin foil.
In 1878 Edison invented the incandescent light bulb, and the power grid system. This system could make, and transport electricity to homes through wires, and in the same year, he founded the Edison Electric Company.
In 1884, Mary Stillwell died. He married 20-year-old Min Miller in 1886. They had 3 children, and moved to West Orange, New Jersey. This is where he built one of thee largest laboratories in the United States, and even in the world. While working in this laboratory he registered 1093 patents.
Edison spent the rest of his life inventing basic x-ray technology, storage batteries, Motion Picture projector, and the world's first talking doll. He died on October 18, 1931.
Page created on 4/4/2009 12:00:00 AM
Last edited 4/4/2009 12:00:00 AM
The beliefs, viewpoints and opinions expressed in this hero submission on the website are those of the author and do not necessarily reflect the beliefs, viewpoints and opinions of The MY HERO Project and its staff.