Terry Fox
by
Sara from Bradford

TERRY THE GREAT HERO OF CANADA

Terry Fox was a great hero. He wanted to run across Canada to help find a cure for cancer. Terry had a 2 brothers - one was Fred and the other was Darrell and one sister named Judith. Terry lived in British Columbia. When Terry was 18 years old he lost his leg to bone cancer. Terry played lots of sports in school he played baseball, rugby and he did cross country running.Terry had a disease called osteogenic sarcoma. It is the most common type of bone cancer in children.

Terry's run began on April 12, 1980. Terry had to stop running in Thunder Bay, Ontario, when his cancer spread to his lungs. In March 1977, Terry felt pain in his right knee. He went to the hospital to find out what was was wrong. Tests showed that Terry had BONE CANCER. Terry's leg was amputated 15 centimeters above the knee .Canadians were inspired by Terry's efforts ,and they gave money for cancer research. Terry ran 8,530 km. Terry battled his disease 10 months after he stopped running. In 1980 a statue of Terry was designed by John Hooper and was installed in downtown Ottawa. Every September 25th, some schools will run for Terry or someone who had cancer or has cancer. In places far away like Turkey and China, people continue Terry's work.They run to try to find a cure for cancer. When Terry began his Marathon of Hope, he filled a jug of water from the Atlantic Ocean. Terry did not have to run but he had the courage to run for a cure to find cancer. At school,Terry worked hard to achieve his goals Terry never liked to miss a day of school. Terry is a great hero of Canada. He for me is the hero of Canada. He ran so so so far. He had hope and courage to run that far. Terry got inspired to run because when he got cancer he felt in his heart that for all the other people who had cancer to find a cure for cancer. Terry inspired me by running for all that people to find a cure for cancer.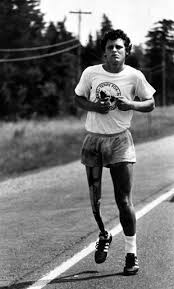 Page created on 11/7/2014 12:11:17 PM
Last edited 11/7/2014 12:11:17 PM
The beliefs, viewpoints and opinions expressed in this hero submission on the website are those of the author and do not necessarily reflect the beliefs, viewpoints and opinions of The MY HERO Project and its staff.