Terry Fox
by
Cassie from Bradford
Even if I don't finish, we need other to continue. It's gotta keep going without me.
Have you run halfway across Canada? Well my hero has. Terry Fox is very inspirational person. When he started something he never gave up. Terry was just a small town boy and now he's a hero to tons of people all around the world.
Terry Fox was born in Winnipeg, Manitoba and was born July 28, 1958 and died in Port Coquitlam BC, June 28, 1981. Terry had 3 siblings. A older brother Fred, a younger brother Darrel and a younger sister Judith. Terry's father was a switch man for the Canadian National Railroad. When Terry was young he loved to play soccer, rugby and had a passion for basketball yet he was only 5 feet tall.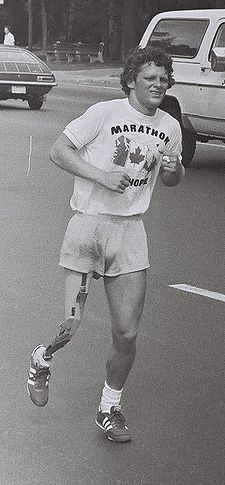 Terry came through some obstacles in his life. When he was 18 he got distracted by a construction truck and crashed into the back of a pickup truck. During his basketball season his right knee was hurting but he ignored it. At the end of the season it was searing pain so he finally decided to go to the hospital. He found out he had cancer in his leg called metastatic osteosarcoma and had to get his leg amputated. After surgery his coach handed him an article about the Dick Traum walk marathon. Once he found out how little money their was for cancer research, he decided to try to run across Canada to raise money for cancer research.
Terry achieved lots of things in his life and some things he didn't achieve. During his basketball season he won 3 basket ball championships and won MVP of the year on wheelchair basketball. He was so determined because even in harsh weather and when his chest was hurting he still ran.
Terry was very determined and had a lot of courage. He didn't stop running. He ran 30 miles everyday and he had the courage to do that. After surgery his coach handed him a flyer about Dick Traum and how he was the first person to finish a marathon with an amputated leg. So He decided to run for cancer research and only asked for 1 dollar from every Canadian. He was very loving and caring.
My hero, Terry Fox influences me because he cares, loves and respects people. He Loves and cares for people or else he couldn't be running for cancer. He also influences me because he got in a car crash and survived and also he got cancer. It influences me because If i get in a complicated situation I know I can get through it. It's just a bump in the road.
In conclusion my hero Terry Fox has gone through some tough things in his life. He's conquered and failed some, won some and lost some but Terrance Stanley Fox will always and forever be my hero. I hope you enjoyed it.
Page created on 5/11/2010 12:00:00 AM
Last edited 5/11/2010 12:00:00 AM
The beliefs, viewpoints and opinions expressed in this hero submission on the website are those of the author and do not necessarily reflect the beliefs, viewpoints and opinions of The MY HERO Project and its staff.