Terry Fox
by
Ryleigh from Bradford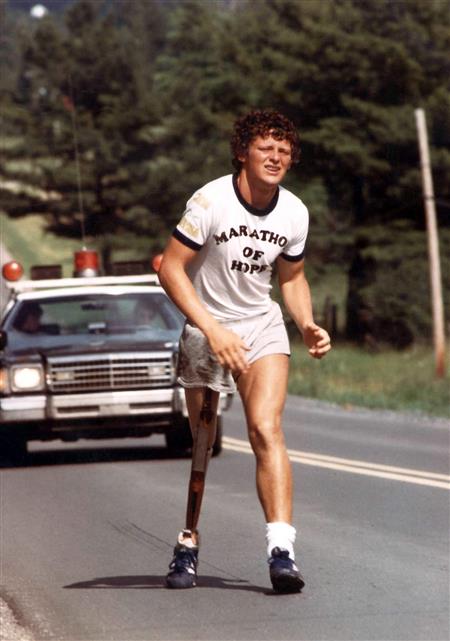 TERRY FOX, A HERO!

Terry Fox may not be a superhero but he is definitely a real live hero. His story starts with cancer. Terry Fox was diagnosed with cancer in his right leg below the knee. They had told Terry that he would have to remove his right leg. While Terry was in the hospital, his basketball coach brought him a magazine. That magazine had changed his life because a man with one leg ran the New York City Marathon.Terry now had more hope than ever.

The morning of April 12th 1980 Terry dipped his prosthetic leg in the Atlantic Ocean and started his run across Canada. He had started his run in Newfoundland. Terry's goal was to raise 1.00 for every Canadian for cancer research. As Terry ran he had hope ...hope to find a cure for cancer. Terry was stubborn and he kept going. Even in rain, snow and heat Terry was determined to find a cure. It might sound crazy but it was amazing.

Before the run Terry was an average kid. He loved basketball and he did track and field. Terry was born July 28 1958. He lived with his sister Judith, brother Darrel, brother Fred, mom Betty and dad Rolly. Terry lived in Winnipeg, Manitoba.Terry went to school with his friends. Terry was active and he loved sports. Terry's friend Doug came and drove the truck for Terry. It was a challenge for Terry because he had only one leg and he played basketball and he was going to run across Canada.

As Terry ran his left ankle was in pain. He didn't stop, he just said, "Somewhere the hurting must stop." That motivated Terry to keep on going. He ran up giant hills and in Quebec along the side roads. Terry would go to meet people and did interviews. He met Bobby Orr and 10 year old Greg Scott. The day Terry met Greg they an amazing day. Greg and Terry went on bike rides and went swimming in the lake. After their day Terry had an interview and Terry said, "I just had the most inspirational day of my life." Terry was now inspired.

I think the character traits Terry shows us is empathy. Terry understood how people were feeling and could help them if they were sad. Another character trait that Terry shows us is to always be optimistic and never give up or quit. The last trait is courage because he ran across Canada to find a cure for cancer. Terry inspires me because he ran across Canada and never gave up. He was so strong and he believed he could do it.Terry raised more than 500,000,0000 dollars for cancer. Someday I wish I will do something great like Terry.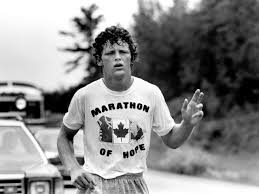 Page created on 11/7/2014 12:23:40 PM
Last edited 11/7/2014 12:23:40 PM
The beliefs, viewpoints and opinions expressed in this hero submission on the website are those of the author and do not necessarily reflect the beliefs, viewpoints and opinions of The MY HERO Project and its staff.