Terry Fox
by
Connor from Calgary
"If you've given a dollar, you are part of the Marathon of Hope ."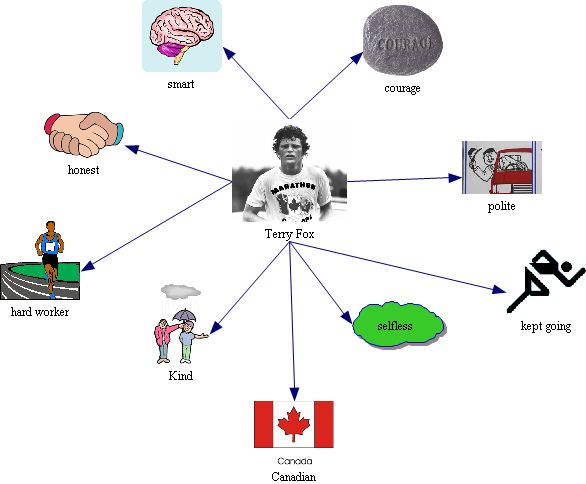 Terrance Stanley Fox was born in Winnipeg in the year 1958. Terry had an older brother Fred, a younger brother and sister, Darrell and Judith. Terry's dad Rolland was a switchman for the Canadian National Railway and his mom Betty would stay home and take care of the kids. Terry Fox grew up in Port Coquitlam. Terry was a great athlete. His favourite sports were soccer, rugby, baseball,and basketball. His best friend's name was Doug Alward. Terry went to Simon Fraser University in Burnaby, BC where he studied kinesiology. When he grew up Terry wanted to be a gym teacher. One day in 1976 Terry crashed into a half ton truck and hurt his knee. Terry's knee kept hurting and hurting. In March Terry went to see the doctor and found out that he had bone cancer! Terry's right leg had to be amputated and he took medicine to get rid of any cancer left in his body. Not many people know this, but after he lost his leg, he became a champion at wheelchair basketball! On August 30th , 1979 Terry ran the Prince George to Boston Marathon in 3 hours and 9 minutes!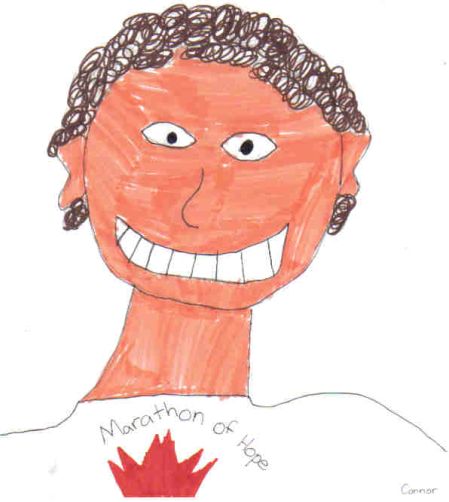 Everyone in Canada probably knows Terry Fox's name. Every September, schools and communities across Canada do an annual Terry Fox Run to raise money for cancer research. These runs represent the Marathon of Hope Terry started to run on April 12, 1980. Terry Fox started his run in St. John's, Newfoundland and ran for 3,339 miles to Thunder Bay, Ontario. Terry ran almost a marathon each day for 143 days. He got the idea to run across Canada because a day before his leg was amputated, his basketball coach showed him an article about a guy who ran a marathon in New York with a fake leg. Terry thought he could raise up to 1 million dollars and put it towards cancer research so people wouldn't feel the pain he felt when he had cancer. He first started his run by dipping the artificial leg in the Atlantic Ocean. He ran to many provinces. Strangers put $100 bills in his hands. He thought why not get $1 from every Canadian if I'm getting this much money as it is? So Terry's new goal was brought up to 23 million dollars! A couple of months into his run, he stopped going to his medical appointments and later found out that the cancer in his knee had gone to his lungs. He had to stop the Marathon of Hope. Terrance Stanley Fox died on June 28, 1981, but he reached his goal of 23 million dollars and also received many different awards. I think Terry showed people never to give up on their dreams and to keep going no matter what happens.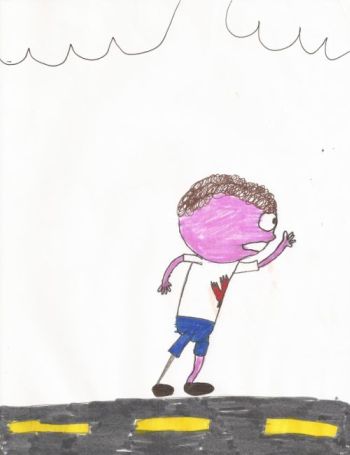 Terry Fox probably was one of the greatest heroes in all of Canada. Terry was an inspiration to all people in Canada. Terry Fox was a great hero because he went beyond himself and did what he needed to do to help people with cancer. Terry Fox won many awards and was even put in the Guinness Book of World Records for most money fundraised. Here's a list of awards he got: a mountain in British Columbia was named after him, he won the Lou Marsh trophy for outstanding athletic achievement, and his portrait was hung in the Sports Hall of Fame. Terry was also given the Order of Canada and the province of B.C.'s highest honour, the Order of the Dogwood. He got many letters of encouragement before he died on June 28, 1981, because the cancer he had in his knee spread to his lungs. I think Canadians will always look up to him for his courage and great attitude.
Terry said, "I just wish people would realize that anything's possible if you try. Dreams are made if people try." at his final news conference. I think lots of people should live by that quote and try new things that you think will be fun, but are scared to try. Terry Fox was a great role model and has inspired many people across Canada and even the world! Terry Fox was a true hero and will be remembered in years to come.
Page created on 7/2/2009 12:00:00 AM
Last edited 7/2/2009 12:00:00 AM
The beliefs, viewpoints and opinions expressed in this hero submission on the website are those of the author and do not necessarily reflect the beliefs, viewpoints and opinions of The MY HERO Project and its staff.