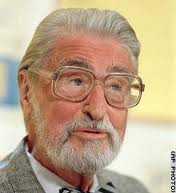 A young boy of six or seven sits on an old, wooden bench on a crisp morning in Springfield, Massachusetts. He sees one of the many animals at his father's zoo, a tiger, and begins to draw it, but giving it softer features than it has and standing up. This boy, Theodor Geisel, then used this animal, or a replica of it, in his best-selling book The Cat in the Hat, but under the name of Dr. Seuss. Theodor Seuss Geisel, author, illustrator, husband, and father, started his life in Springfield, Massachusetts on March 2nd, 1904. His childhood consisted of struggling through school and drawing intriguing beasts enthused by watching the exotic animals at his father's zoo. He continued on to graduate from high school and then go to Dartmouth University, although afterwards he went on to Oxford University, where he was unable to finish his four years. With crushed pride, Geisel still took away one great thing from Oxford, his future bride Helen Palmer, who he married on November 27th, 1927. Geisel then went back to the US only to write articles for newspapers and magazines. His first breakthrough was not even in the world of literature, but in movie business. Geisel directed two WWII documentaries, in which both won Oscars. Geisel then got into writing for children with his first book, And to Think I Saw it on Mulberry Street, by using the rhythm from an engine to help with the words. He then made a rapid pace of popularity by writing many more children's books, selling over 200 million copies by 1990. Geisel died on September 24th, 1991, but his artwork and legacy sustained after death.
Geisel gives people courage so that they may act boldly so their opinion may be voiced for others to hear. Theodor Geisel attempts to write with a positive attitude to promote communities to be opinionated: "Though Dr. Seuss books sometimes included morals, they sounded less like behavioral .guidelines and more like, 'listen to your feelings'." (Geisel, Theodor). Ted hopes that the younger society will make better choices than the last generation did by trying to teach them good moral standards such as be green, the main point in Dr. Seuss' The Lorax. Although, Geisel also tells his readers to not only go by these standards, because sometimes situations may have a better solution than just going by those morals. Theodor Geisel not only used his books to impact the US, but also other countries: "At the time of Ted's death on September 24, 1991, some 200 million copies of his books, translated into 15 different languages, had found their way into homes and hearts around the world."(Dr. Seuss Biography) Theodor's creations have now sold over 300 million copies since his death and the firm statement of his books are still reaching farther and farther. Even after his death, he is still continuing to be a part of many of our childhoods.
Theodor has educated young students with his books to help teachers direct children down the path of intelligence. Geisel is educating so many with his small books, proving that something very big can come from something so little: "Though Ted's road to children's books had many twists and turns, The Cat in the Hat catapulted him from pioneer in children's literature to definitive children's book author/illustrator, a position he has held unofficially for many decades since."(Dr. Seuss Biography) The Cat in the Hat proved Dr. Seuss' amazing talent for writing for children, and along the way teaching them simple literature so that perhaps one day they may change the world with their talents and now new skill in writing, or so they could humbly take Theodor's place as an author after his death. Geisel was acknowledged for his attributes to children's literature: "The Pulitzer Prize Board awarded Dr. Seuss a Special Citation 'for his contribution over nearly half a century to the education and enjoyment of America's children and their parents.'"(Nancy Lyman Huse) Theodor was awarded the Pulitzer Prize because of 50 years of dedication and hard work to children's books, but it is now closer to a century of work than half a century.
Dr. Seuss has used his imagination to create captivating rhymes and interesting illustrations to inspire children to be inventive and resourceful in their later years. "Geisel's father then took a job as superintendent of city parks, which included the local zoo. There, young Theodor spent many days drawing the animals and eventually developing his own unique style."(Geisel, Theodor) Theodor showed off his imagination by looking at the majestic beasts of Earth, and then tweaking them with his own spin to create intriguing animals. He then applied these skills to his books to share these new animals to children so that they can make their own creations from his. Just Geisel's surroundings could help him come up with a new children's book: "While traveling on the luxury liner Kungsholm, Ted became bothered by the rhythm of its engines. At Helen's urging, he applied the incessant rhythm to his first children's book, And To Think That I Saw It On Mulberry Street."(Dr. Seuss Biography)Theodor Geisel uses the help of just life's normal sounds and sights that people would usually just block out of their mind to focus on their work, but he transforms these normal aspects into loopy, magical places.
Geisel promotes reading to young learners by making easy, appealing books so that they may learn literature and be bold, but he also writes to inspire people with his creativity. Geisel has educated many by selling his books in hope of everyone learning literature and the doorways that open with it. He entertained us with the wonders of imagination, and has supported us in the process to be the best that we may be. Geisel used everything in his power to help countries learn literature, putting his heart, mind, and soul to give some the simple pleasure of reading a funny book, and some of us an education. Not only that, but he then used the money made by his career just to give it right back to us with donations to charity and public parks. How else could Geisel help us? Maybe by sharing his most prized drawings and paintings with us? Done. Geisel has inspired myself to try my hardest at any form of writing, whether it be a Christmas card to my relatives, or the president's speech. We must all take away something from Geisel that can change this world for the better, even the little things like picking up the trash that you and others leave behind. So tell me this, why would anyone disrespect Geisel and their own community to go around littering, or even just walking around with a bad attitude? Those sorts of things are not helping anyone in this world. We must all look at the man who has grown from the young boy who sat on a bench drawing and see the great things he has done, and then reflect on ourselves and see what we can possibly do in our lives that will help us do great things or do great things.
"Dr. Seuss Biography." Dr. Seuss Biography. N.p., n.d. Web. 10 Dec. 2012. http://www.drseussart.com/biography.html.
Huse, Nancy Lyman. "Seuss, Dr." World Book Student. World Book, 2012. Web. 11 Dec. 2012. 
"Geisel, Theodor." UXL Encyclopedia of World Biography. Ed. Laura B. Tyle. Vol. 5. Detroit: UXL, 2003.             781-784.Gale Virtual Reference Library. Web. 11 Dec. 2012.
"Dr. Seuss." U*X*L Biographies. Detroit: U*X*L, 2003. Gale Student Resources In Context. Web. 10 Dec
"Theodor Seuss Geisel." Major Authors and Illustrators for Children and Young Adults. Gale, 2002. Gale Biography In Context. Web. 5 Dec. 2012.. 2012.
Page created on 1/10/2013 12:00:00 AM
Last edited 1/10/2013 12:00:00 AM