Theodor Seuss Geisel
by
Beverley from Mississauga
"And will you succeed? Yes indeed, yes indeed! Nighty-eight and three-quarters percent guaranteed!"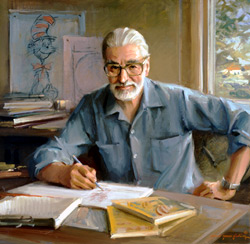 Theodor Seuss Geisel was born on March 2, 1904 in Springfield, Massachusetts. Seuss' father was the city's brewmaster. His father is also Springfield's Forest Park's superintendent, a large park that also contains a zoo. Theodor Seuss Geisel is also known as Dr. Seuss, who is a writer, cartoonist, and an animator. Seuss' books and movies are made up of imaginary characters and rhyming prose. Though he dedicated most of his life writing books for children, he himself did not have any children. He is well known for many books and movies such as "The Cat in the Hat", "How the Grinch Stole Christmas", and "The Lorax". At the age of 21, Seuss was later a freshman at Dartmouth College. Theodor entered a college in Oxford, planning to earn a PhD in literature. But his plans were crashed when he met his future wife, and they got married in 1927. Dr. Seuss' Dr. part was the job that his father wanted him to be, but because of Seuss' early marriage, that dream didn't happen. In 1943, he joined the army and was instantly the commander of the Animation Department. In conclusion, Theodor Seuss Geisel is my hero because he inspires others, he spreads awareness, and he was always himself.

Seuss has inspired many to be true to themselves and to be original. As Seuss once said, "Today you are You, that is truer than true. There is no one alive who is Youer than You." It's better to have an original copy of someone than to have a duplicate of someone. Seuss has always been true to himself and has dedicated his life to children's books.
Theodor made many books to spread awareness around the world. One of his works is the movie "The Lorax", which tells the story about how many industries are destroying the environment to make whatever they want. When the environment got destroyed completely, the industry collapsed and they lost everything. That movie taught us to use the environment only if needed, and if you are using it, then let the plants re-grow so that the forests don't disappear. If everyone knew this, then our world today would be more peaceful and beautiful.

Theodor Seuss Geisel was always himself. His unique way of writing has made his books very popular. He never gave up his way of writing books. Seuss didn't care about what others thought about his works, everything was based on originality and imagination. His books are rhythmically musical, as in his writings included strong and weak beats. Together with others, Seuss made a "Seuss Landing", an "island" located at the Islands of Adventures theme park in Orlando, Florida. In "Seuss Landing", there are some of Seuss creations, the imaginary characters. Seuss' artworks were endlessly varied, most of his artworks are somewhat round and droopy. In the end, his movie "Design for Death", won the Academy Award for Documentary Feature in 1947. In the end, his productions turned into a huge success!

Since I was little, I have been collecting Dr. Seuss' books because they were really funny and my imagination craved for them. When I ask my classmates, they also have Dr. Seuss' books. They said that they enjoy reading his books and that you'll never get sick of them. The artworks in his books are also really creative and interesting. We all wonder how he came up with his artworks and his ways of writing his books. Now, since we just found out about the "Seuss Landing", we all want to visit there and touch Seuss' creations. In conclusion, Theodor Seuss Geisel is a hero because he developed world awareness, stayed true to himself, and he inspires others.
Page created on 5/15/2008 12:00:00 AM
Last edited 5/15/2008 12:00:00 AM
The beliefs, viewpoints and opinions expressed in this hero submission on the website are those of the author and do not necessarily reflect the beliefs, viewpoints and opinions of The MY HERO Project and its staff.
Bibliography
wikipedia. "Dr. Seuss." [Online] Available http://en.wikipedia.org/wiki/Dr._Seuss.
unknown. "Dr. Seuss Quotes." [Online] Available http://thinkexist.com/quotes/dr._seuss/.
google. "google images." [Online] Available images.google.ca.