My hero is Tove Jansson.
Tove Jansson was a Swedish-Finnish writer, painter, illustrator, and comic book novelist. She is best known as the author of the Moomin books, a children's fiction series. Tove Jansson was born in Helsinki Finland, in 1914, into a very artistic family. Her father, Viktor Jansson, was a famous sculptor and her mother, Signe Hammarsten-Jansson, illustrated novels. Her two brothers later became artists as well; a photographer and a writer. Tove Jansson displayed her work in many exhibitions during the '30s and '40s. During World War II, Jansson was feeling depressed, and she felt the need to write something naïve and innocent. This was the inspiration for her first book, 'Småtrollen och den stora översvämningen', or 'The Moomins and the Great Flood'. She wrote several more books (that she also illustrated with beautiful pen and ink drawings) later on in her life, about the same characters. They have been translated from Swedish into over 33 languages, making Tove Jansson Finland's most widely read author abroad. In 1966, Tove Jansson won an award for her contributions to children's literature. She passed away in June, 2001. Tove Jansson is a hero because she has inspired people (like myself) to become authors, and to live optimistically, like the characters in her books.
I read my first book by Tove Jansson four years ago; it was then that I decided that I want to become a writer. Her books were so artfully simple, and yet rich with detail. Tove Jansson had a gift for making characters, in both her drawings and her writing, come to life; she knew exactly what to reveal about a character and what to leave hidden to make the strange creatures that inhabited her books feel present. Jansson's books are truly something special. This is something that I strive to achieve when I write. In this way, Tove Jansson is a personal hero. She inspires me to pursue my dream, and she has provided a literary goal for me to strive for in my writing, as well as artistic inspiration.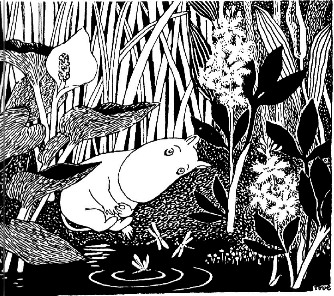 There is also a touching story of a young Japanese girl who wrote to Tove Jansson, while her fame was at its peak. Her letters are full of admiration, praise, and haikus. This girl was also inspired by Jansson's literature. When the girl asked "How old must one be to write a story?" Tove Jansson told her "You don't have to be a certain age, you just begin writing a story because you have to." The Japanese girl's letters were later published in Jansson's "The Winter Book" under the title "Correspondence". I think that that shows heroism.
Most of Tove Jansson's books center around the life of a family of small white hippopotamus-like trolls called the Moomins. They live simple, optimistic, and adventurous lives. They are trusting and quick to welcome outsiders into their family. Tove Jansson has inspired me, and possibly others, to live like the characters in her books. She delivered her message to the world in the form of simple-minded, philosophising animals. They force us to look at our own lives and ask ourselves how we, too, can become Moomins.
While she was writing, Jansson probably didn't think that her books would inspire people the way they did, but I think that makes her even more heroic. Her natural, almost minimalistic writings gently remind us to savour the simple things in life, and to hope for the best. This is what makes Tove Jansson a true hero.
In Tove Jansson's own words, "All I want to do is live in peace, plant potatoes, and dream."
Page created on 10/20/2011 12:00:00 AM
Last edited 10/20/2011 12:00:00 AM
Related Links
Click here
- to buy books written by Tove Jansson.
Click here
- to go to the official Moomin site and read more wbout the Moomins.
Click here
- to read some quotes from Tove Jansson's books.