by
Kylee from Essex Junction

My hero is Terry Potvin. She is my Family and Consumer Science teacher. The reason she is my hero is because she has volunteered for many different organizations. She has also tried to get kids involved with these organizations. She was born in Vermont and grew up in Essex Junction until she was in sixth grade; after sixth grade she moved to Milton. She has two children, a son and a daughter. Her daughter has followed in her volunteering footsteps by making the kids at her summer camp a quilt. Terry feels that if she models volunteering it will soon catch on. She also has two granddaughters and one on the way. Her mom is her role model. The reason for this is because her mother is always doing things for other people. Both of her parents were involved in church and her mom was her Girl Scout leader. So she grew up around volunteerism. Outside of teaching, she loves to garden, cook, knit, and exercise. The organizations she has worked for are Project Linus, Warm Up America, ConKerr Cancer, Heavenly Pantry, and Meals on Wheels.
Project Linus is an organization that provides kids who have bad illnesses with blankets. Their mission is "to provide love, a sense of security, warmth and comfort to children who are seriously ill, traumatized, or otherwise in need through the gifts of new, handmade blankets and afghans, lovingly created by volunteer 'blanketeers'." Project Linus also seeks "to provide a rewarding and fun service opportunity for interested individuals and groups in local communities, for the benefit of children." Project Linus is located in Bloomington, Illinois. An average of about 350 blankets are sent out to kids that need help monthly.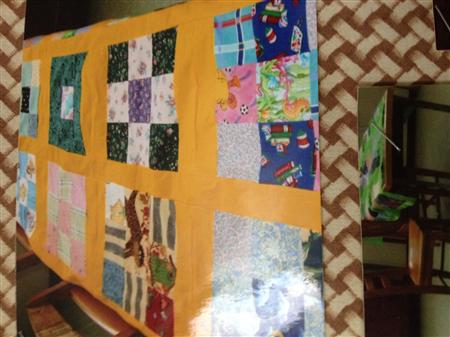 Warm Up America is also an organization that makes blankets and or quilts for people in need. This program started in Wisconsin. The founder of this organization is Evie Rosen. She came up with the idea of of people crocheting or knitting pieces of a blanket and then joining them together into one big blanket or quilt. They also give people warm afghans, hats and other things. These things go to over tens of thousands of people in the United States. Now they are planning on opening a Warm Up Canada program.
ConKerr Cancer is an organization that provides kids who have cancer with pillowcases.The founder of this organization is Cindy Kerr. Their mission is "to provide smiles to children with life changing illnesses and to make them feel special." ConKerr Cancer "provides children with cheery pillowcases to brighten their hospital stay and a chance to learn to sew while breaking up the boredom of a hospital stay." Their main focus is to help children with cancer and more life threatening illnesses. ConKerr Cancer have sent 860,000 or more pillowcases in as little as seven years to about 250 hospitals all over America. Also they go to hospitals to sew and knit with kids.
The Heavenly Pantry is an organization that helps feed over 86,000 Vermonters who are in need of food. Their mission is "to gather and share quality food and nurture partnerships so that no one in Vermont will go hungry."
Meals On Wheels is an association that provides seniors with meals. They deliver the meals to the seniors. Their mission is "to empower community programs to improve health and quality of life." The first Meals On Wheels program opened in Philadelphia, PA in 1954. They have a Meals On Wheels program in all 50 states in America. There are about 2 million volunteers for this association.
Terry involves her students in at least one of these organizations every year in her Family and Consumer Science class. She has her students either make pillowcases or blankets. She sends these organizations food. She does this because she likes to model to kids that volunteering and helping people is a kind and good thing. She also calls these organizations to see what they need. She has been involved with these organizations for at least ten years.
Her favorite part about working with these organizations is seeing that people are happy and for kids to see that organizations need things that we can provide., and also for us to catch on and start doing volunteer work ourselves. At one time, she felt sad because one of her colleagues lost his daughter to cancer right as she and her class started the making pillowcases unit. She felt happy when a kid from the school she works at came back to school and showed her that they had gotten one of her pillowcases. The most memorable moment in working with these organizations is the end of year when she gives away all of the things to the organizations. Also at the end of one year, she ended up having 14 quilts and that was the most she had ever had. She remembered laying them all out and looking at each one. The most frustrating part was not having enough time to make everything. Her mom had also helped her if the kids didn't get everything done. Also her neighbors helped too. She keeps volunteering because she feels like we need to give back to other people and pay it forward because if someone does something nice for you, you will return a favor, and so on. She wants to keep volunteering forever.
Bibliography's: Project Linus - "Project Linus National Headquarters." Project Linus-About. N.p., n.d. Web. 29 Apr. 2014. . Warm Up America - "What is Warm Up America! (WUA!)." What is Warm Up America! (WUA!). N.p., n.d. Web. 29 Apr. 2014. . ConKerr Cancer - "Search HomeAboutAbout UsHistoryFounder's MessageThank YouBoardAnnual ReportInspirationMany Sources of InspirationMeet RyanMeet Some Amazing ConKerr KidsVolunteerSew PillowcasesAdditional Ways to Help OutFAQMeet Our Great Smile MakersDonateHow to DonateOur." ConKerr Cancer. N.p., n.d. Web. 29 Apr. 2014. . Meals on Wheels - "Our Vision and Mission." Mission Statement. N.p., n.d. Web. 29 Apr. 2014. .
Page created on 5/8/2014 12:00:00 AM
Last edited 5/8/2014 12:00:00 AM