Todor Proeski
by
Tiyana from Las Vegas
"Like a bullet from a gun some things can never be undone so easily"-Todor 'Toše' Proeski
Todor 'Toše' Proeski was born January 25, 1981 in Prilep, Macedonia. His musical talent was discovered at age 12 and he was chosen to perform at a popular children's song festival, Zlatno Slavejce, in Skopje. His career started in 1996 when he was in the teenage music festival Melfest in Skopje. His rise to fame began when he participated in the music festival Makfest in Štip. From 1990-2008 he had over 15 singles and 8 albums. In 2004 he competed in the annual Eurovision song contest representing Macedonia. He performed 8 songs and he came in 14th overall with his song "Life." Toše Proeski was one of the most famous Macedonian singer/songwriters of his time and will be remembered for his generosity.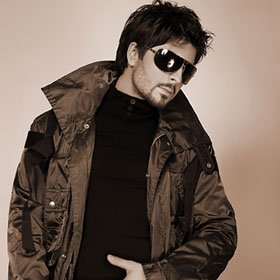 In the early morning at 6:20 a.m. on October 17, 2007, Toše Proeski died in a car accident on the Zagreb-Lipovac highway near Nova Gradiška, Croatia at the age of 26. He was a passenger in a Volkswagen Tours. The car crashed into the back of a truck, then into a median barrier, crushing the third vertebrae of his neck and killing him instantly. After his death, the government of the Republic of Macedonia gave him the title 'Honorable Citizen of Macedonia' and declared October 17th the national day of mourning in memory of the legendary singer and songwriter.
What makes Toše Proeski my hero? Is it because of his generosity, kindness and caring towards others, or all his musical achievements? Toše Proeski is my hero for all of these reasons.
In 1999 Toše Proeski had two hits on his first album. For a beginning singer, having two hits is amazing, and in 2003 he won a big award for his song "Cija Si" (To Whom Do You Belong).
Also, in 2003 he won the Mother Teresa Humanitarian Award for holding benefit concerts throughout Macedonia and was named the regional ambassador for UNICEF (United Nations International Children's Emergency Fund, a fund created to help give children, who have been devastated by war, food and healthcare).
In 2004 Toše Proeski went from being the UNICEF Regional Ambassador to the UNICEF Goodwill Ambassador, and his song "This World" became the UNICEF anthem.
Toše Proeski is my hero and my inspiration because of everything he did to help the lives of children and other people who needed it. His benefit concerts helped spread the word about those in need. Even though he is not here today, I will always remember the many lives he helped. He has inspired me to help people in any way possible. Eventually, I would like to start a cause to help people in memory of Todor Toše Proeski.
Page created on 5/8/2009 12:00:00 AM
Last edited 1/6/2017 7:19:56 PM
The beliefs, viewpoints and opinions expressed in this hero submission on the website are those of the author and do not necessarily reflect the beliefs, viewpoints and opinions of The MY HERO Project and its staff.