Tom Sims
by
Andy from Drayton Valley
I have chosen to write about Tom Sims. Tom Sims was born in Los Angeles, California on Dec 6, 1950. Tom Sims died in September 12, 2012 of a heart attack in Santa Barbara, California. Tom Sims is famous because he created the first snow board (the ski board which was later called the snowboard). Tom Sims is worth knowing about because he created the snowboard at the age of 13 which led to a world famous sport. Tom Sims should be called a hero because he created an awesome sport and his company Sims Boards gives underprivileged children the chance to snowboard.
Tom Sims attended junior high at Haddonfield Central School in New Jersey. He enjoyed shop class where he made the first snowboard out of plywood. Tom Sims was an avid skateboarder as a kid and needed a board that could handle the snow in South New Jersey where he grew up. This love of boarding led to his invention, which led to his career as a businessman and champion snowboarder.
Tom`s invention did not work very well, but he didn't give up and kept redesigning it. Tom competed professionally skateboarding in the 1970s. Then founded Sims Skateboards in Whittier, Calif. to manufacture and market them. Then a few years later he started Sims Snowboards. His company Sims Snowboards was one of the first to design boards with metal edges. They made snowboards for women that were smaller and lighter. They were one of the first to design and manufacture high-backed snowboard bindings, the same as what is used today.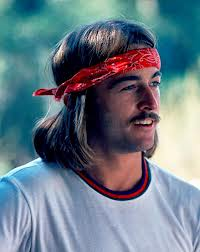 He married Hilary and had two sons, and a daughter, Thomas Jr. and Shane; Sarah M. Sims two stepdaughters, Alexa and Kylie Wagner. During the 1980s, many ski resorts still did not recognize the sport. Snowboarding kept getting more popular and riders started organizing competitions with slalom races like alpine skiing did. Tom Sims brought his skateboarding skills to the sport and helped introduce freestyle snowboarding, using jumps on the hill to perform tricks. He was also Roger Moore's stunt double during a snowboard sequence in the 1985 James Bond film "A View to a Kill. `` In 1983 Tom created the first snowboarding half-pipe made of snow and used in competition, in Lake Tahoe, and the first permanent half-pipe of snow at a ski area, at Snow Summit in Big Bear Lake.
Tom Sims was the guy who got ski hills to let people snowboard on their hills. Snowboarding was recognized for the first time as a Winter Olympic sport in Nagano, Japan in 1998. We wouldn't have the chance to do an awesome sport if he didn't create the snowboard. As I am the same age as Tom was when he invented the snowboard I can relate, I am the type of kid that doesn't like traditional sports. However, I love snowboarding. Tom Sims gave me a sport to enjoy.
Page created on 1/24/2013 12:00:00 AM
Last edited 1/24/2013 12:00:00 AM
The beliefs, viewpoints and opinions expressed in this hero submission on the website are those of the author and do not necessarily reflect the beliefs, viewpoints and opinions of The MY HERO Project and its staff.