Tom Brady
by
Blake from Riley
TOM BRADY
Two years ago Tom Brady and Randy Moss had a great year together beating the NFL record for passing and receiving touchdowns. Tom Brady plays quarterback for the New England patriots. He played college ball at the University of Michigan. Tom Brady is the best NFL quarterback because he won 3 super bowls and received many MVP awards.
Tom Brady has won 3 NFL SUPERBOWLS. He got to play in his first Superbowl because the starting quarterback at the time got hurt in the playoffs and Tom was able to get a chance to win, then play in the Superbowl and he won against the Rams. After the 2003 season the Pats were back in the Superbowl in 04. They played the Carolina Panthers and Tom was able to lead the team to another win and another mvp. The very next year they were back again and Tom had an amazing connection to Deion Branch and they won again by an Adam Vinatieri field goal.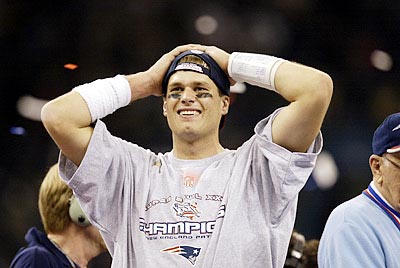 Tom Brady's stats are amazing. He is the best quarterback currently and eventually will be the best of all time. Right now he has 35,000 yards passing and 268 passing touchdowns he won several NFL season MVPs and 2 SUPERBOWL MVPs. One of the best games he has played is when he got 500 plus yards and 4 touchdowns to 4 different receivers against the Dolphins week 1 this year. One of his best years ever was when he and Randy Moss got the touchdown and receiving record. Tom lead the team to a 16-0 perfect season.
Tom Brady has a lot of sponsors because he is a role model, very famous and a leader. Tom Brady also has good looks that get him on the front cover of a lot of magazines.
I think there is no question that Tom Brady is the best quarterback playing right now and will be the best of all-time when he retires because the stats don't lie with his Superbowl awards, his leadership and many MVP awards. He has a great team behind him and he can only win more MVPs and Superbowls.
Page created on 9/29/2011 12:00:00 AM
Last edited 9/29/2011 12:00:00 AM
The beliefs, viewpoints and opinions expressed in this hero submission on the website are those of the author and do not necessarily reflect the beliefs, viewpoints and opinions of The MY HERO Project and its staff.

Extra Info
Tom Brady Poem
I am Tom Brady
I am a three time superbowl champ
I have many MVP awards
I am a quarterback
I play for the Patriots
I am 34 Years old
I am a Pro Bowler
I have 2 sons
I was born on august 3rd 1977