Terry Fox
by
Alice Desaulniers from St. Gabriel de Valcartier
Why I Chose Terry Fox As My Hero
Terry Fox is my hero because he was a very friendly and determined person. He thought about others before himself and never gave up during the Marathon Of Hope. He would stop running only for his basic needs. Most of all, he went through cancer but decided to run and raise money for other people. Terry Fox had a lot of heart and took on the challenge of running across Canada. Imagine doing a marathon every day whatever the weather was. It seems really hard but Terry did it with the handicap of only having one leg. What surprises me the most is that none of the money he raised went to him. Another thing I like about Terry Fox is that he accomplished his goal of raising 1$ from every Canadien. That number is still going up today.
In Winnipeg, Manitoba on july 28,1958 a young boy named Terry Fox was born. Terry had a normal life, with normal friends and a normal family until one day in 1977. He went to the hospital because he wasn't feeling real well. That's when his adventure began...
After several tests, the doctors figured out Terry had cancer in his right leg. Sadly, Terry Fox had to have it amputated and had to live the rest of his life on one leg.
In the 1980s Terry Fox started to train on his new leg and then he started the Marathon of Hope. He decided he would run across Canada starting in St. Johns, Newfoundland and go all the way to Vancouver. It would be like a marathon every day in which he would participate. All the money would go to cancer research in the hopes of one day finding a cure for cancer. He didn't want other people to go through what he went through. At the beginning of the Marathon of Hope, no one really knew it was happening but when the media got into it everyone started to run with Terry. Terry fox announced that his dream was to raise one dollar from every Canadien which became a dream come true. He ran about 26 miles every day.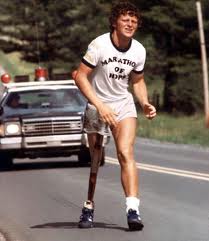 On the 143rd day Terry wasn't feeling really well and started to have trouble breathing so he decided to take a break. He went to the hospital and the doctors told him he had cancer in his lungs. Terry Fox had to stop running. In all, he had done 3000 miles and had to stop. A few weeks later Terry died. He had collected over 425.5 million dollars for cancer and that number today, still goes up with donations from people from all over the world. Terry Fox accomplished his goal.
Page created on 11/12/2010 12:25:35 PM
Last edited 11/12/2010 12:25:35 PM
The beliefs, viewpoints and opinions expressed in this hero submission on the website are those of the author and do not necessarily reflect the beliefs, viewpoints and opinions of The MY HERO Project and its staff.