Tadao Ando
by Riley McMahon
I believe that the way people live can be directed a little by architecture.
Tadao Ando, born in Osaka, Japan in 1941, has become one of the world's most influential architects. Since his childhood days spent making wood models of ships and airplanes, Tadao has been interested in the shapes of structures and also the form of nature. As a kid, Tadao "watched how trees grew, altered by how the sun hit [them], changing the qualities of lumber." After visiting temples and shrines in Kyoto and Nara and studying traditional Japanese architecture there, he "came to understand the absolute balance between a form and the material from which it is made." Tadao never liked being taught so he studied architecture on his own. Traveling to Europe and the U.S., he analyzed the Western world's greatest buildings. While traveling, he kept (and still does today) a detailed sketchbook storing his ideas and possibly his future works.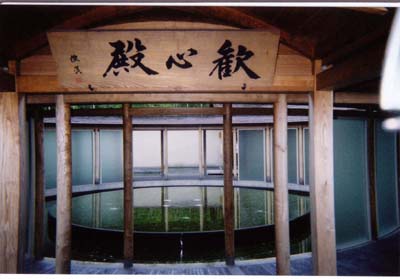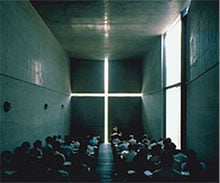 As Tadao experimented with various medians, concrete became the tool of his choice. Though some say that concrete is boring and ugly, Tadao effectively uses the smooth material to create "spaces...that allow constantly changing patterns of light and wind..." He places much importance on light, wind and the walls that either shield or allow nature into the structure. Tadao explains, "I create enclosed spaces mainly by means of thick concrete walls. The primary reason is to create a place for the individual, a zone for oneself within society. When the external factors of a city's environment require the wall to be without openings, the interior must be especially full and satisfying." Some of Ando's best works include Church of Light, The Church on the Water, The Buddhist Water Temple, The Children's Museum at Hyogo and the Rokko Housing Project.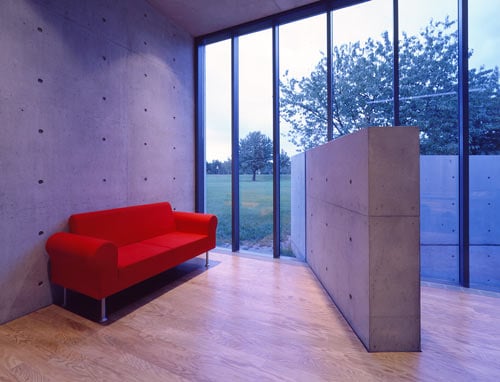 By using simple geometric shapes to form his buildings, Ando has created a mix of modern architecture and traditional Japanese architecture. His walls establish a human zone and counter the monotony of commercial architecture. On the exterior, the wall deflects the surrounding urban chaos, while on the interior, it encloses a private space, personal to the resident. Tadao's creative works have gained him every major Japanese architecture award and the world renown Pritzker Architecture Prize.
The jury of the Pritzker Architecture Prize explains why Tadao won the 1995 Pritzker Architecture Prize: "Tadao Ando is that rare architect who combines artistic and intellectual sensitivity in a single individual capable of producing buildings, large and small, that both serve and inspire . His powerful inner vision ignores whatever movements, schools or styles that might be current, creating buildings with form and composition related to the kind of life that will be lived there. "
Page created on 7/25/2005 2:36:38 PM
Last edited 1/4/2017 10:06:57 PM
Related Links
Pritzker Prize
- is the most prestigious award in architecture. The winner receives a medal designed by the father of skyscrapers, Louis H. Sullivan.
- includes a list of Tadao's works, a biography, and additional resources.
designboom
- interviewed Tadao Ando.
Tadao Ando
- Official Website