Team Refugee
by
Rachelle from Riley
"I'm happy because it will be the first time refugees are represented in the Olympics. It will inspire other refugees because wherever they are they will see that they are not just the "Other People". ~ Anjelina Lohalith. This year being called the "Year of Change", the Olympics have finally decided to make history by having the very first Olympic team that isn't already its own country. All of the members of the team are from different countries and refugee camps. So not only is Team Refugee making its own mark in history, the team is giving hope to all of the athletes and people who have grown up living in similar situations, giving others their strength and perseverance along the way.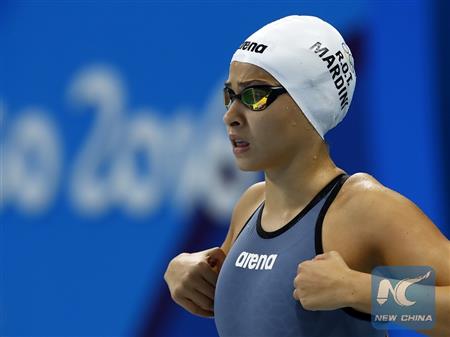 Not all Olympic athletes grow up having a so-called "Perfect Life". For Team Refugee it is a far cry from what they have grown up to learn as "normal". "I want everyone to think refugees are normal people who had their homelands, and lost them, not because they wanted to run away and be refugees". ~ Yusrs Mardini. Even in their everyday lives, refugees seem to always feel like outcasts from their own land - never feeling as if they are ever home, ever since they had been taken away from their own. One of the stories showing a refugees' true strength is the story that one of the team members tells about his daily life before the Olympics. He tells BBC how, "All he would do every morning was run as far and as long as he could so that he could escape the pain of remembering where he was and what he has been through until he could run no longer."
According to the IOC President, Thomas Bach, "The athletes were selected to 'send a message' of hope to all refugees of the world." Ever since Team Refugee had competed for the first time at the Olympic Games what Thomas Bach had said started to come true. Refugees started to realize that they didn't always have to be victims for the rest of their lives; they realized that they were allowed to have their own dreams, instead of settling for what they had. Not only had Team Refugee affected how the refugees looked upon life, their passion and strength gave others from all over the world hope for not settling for the short end of the stick and to keep working as hard as you can to accomplish your own goals in life, no matter what others might tell you.
By far the 2016 Rio Olympic Games will be one for the book! Being the very first team in the Olympics to not belong to its own country gives to the Olympic Games itself a new outlook as to what the future may hold. A new revolution bringing a new era of hope to others who feel as if they don't belong to their own countries. Maybe even in the end giving the Olympics a path to a future to more teams like Team Refugee, giving hope to people like them for a future to those who believe that there isn't one to be seen at all.
Team Refugee will go down in Olympic history. Even though they might have not done the best out of all the teams there, they had surely won the hearts of millions for their strong will and ability to push through all of the obstacles that might block their way while trying to make it to the top. From once being children who everyone had pitied, to becoming the grown ups that everyone wants to be, Team Refugee will be making their mark in history, while also having the gift to give all of their strength and hope to others who don't have any. In the end, Team Refugee might not leave with any gold medals but they will definitely leave with the support of thousands of admirers.
Page created on 10/14/2016 12:00:00 AM
Last edited 7/15/2020 5:54:13 PM
The beliefs, viewpoints and opinions expressed in this hero submission on the website are those of the author and do not necessarily reflect the beliefs, viewpoints and opinions of The MY HERO Project and its staff.