Bojaxhiu,
Agnes Gonxha
A.K.A Mother Teresa
by
Ashly from Pukalani, Hawaii
The Hero I choose is a lady that dedicated her life to God and to all the people around the world. A woman with so much courage, and heart and loving, and a woman who strived for so much in her life. The hero I choose is Anges Gonxha Bojaxhiu; everybody knows her by the name Mother Teresa. She was from an average family. Her parents were Nikola & Dronda Bojaxhiu. She had 5 brothers and sisters but only three survived. Gonxha the youngest, Aga, the oldest sister, and Lazar is her brother. When Mother Teresa was 12 she felt strongly called to God to serve him.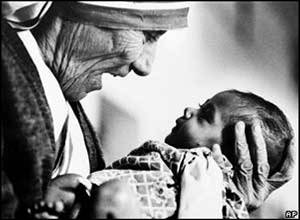 At the age of 18 she joined the Sisters of Loreto, an Irish community of nuns with missions in India. In the year 1931 at the ago of 20, she took her initial vows towards becoming a nun. After becoming a nun she decided to become a teacher for 18 years at St. Mary's High school in Calcutta. In the year 1948 at the age of 38 she asked the superiors if she could leave the convent school to devote herself to work with the poorest of the poor in the slums of Calcutta. In October 7, 1950 at the age of 40 years old she received permission from the Holy See to start her own order, "The Missionaries of Charity."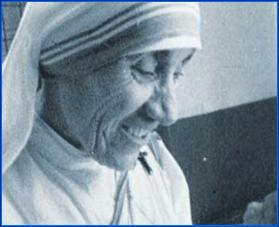 In the year 1988 at the age of 77, she visited her mother's and sister's grave back in Shkodra. At the age of 80 years old she indicated her intention to resign as head of her order due to failing health, but because of disagreements regarding her successor she remained as head of order until March. On April, 25 1993 at the age of 83 years old she attended the inauguration ceremony of the Great Cathedral in Shkodra. But three years later at the age of 86, Mother Teresa was hospitalized several times with heart, lung, kidney and other problems she suffered in her earlier years. That same year she stepped down as head and was replaced by Sister Nermala. About one year later on September 5, 1997 at the age of 87 years old, Mother Teresa died in Calcutta, India after suffering a cardiac arrest.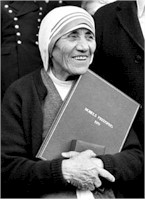 Mother Teresa received many awards through out her life for all the good deeds she did for the world and the people. She received awards such as: the Pope John XXII Peace Price, the Nehru Prize, the Balzan Prize, the Templeton and Megsaysay awards, and many more.
Page created on 9/29/2005 12:00:00 AM
Last edited 9/29/2005 12:00:00 AM
The beliefs, viewpoints and opinions expressed in this hero submission on the website are those of the author and do not necessarily reflect the beliefs, viewpoints and opinions of The MY HERO Project and its staff.