Tikka
by
Slater
Dogs believe they are human. Cats believe they are God...Author Unknown
Animals have an amazing power to bring people together. They don't care about your race or nationality or religon. They love you for who you are. Tikka was one of those animals. This is his story.
Tikka was my tabby cat. I first saw Tikka and his family, a mama and three kittens, in the wood pile beside our house in Los Angeles, California. We gave away the two small grey kittens but the mother and the tabby disappeared. A couple of weeks later a little scrawny tabby kitten came trotting up, meowing. My parents assumed that the kitten already had a home or had a mama waiting somewhere for it, so we made no move to take it in. As the kitten walked back into the shadows, I began to cry. Suddenly, the little tabby was running back to where we sat and we decided to keep it. We gave the kitten some milk and played with it. That night I christened the little cat Abu Tikka.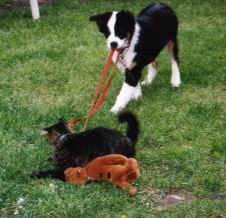 A little while after Tikka was accepted into the family, he became entangled in an accident which would cost him his left eye. Tikka had jumped onto a sleeping dog and the dog had bitten him. But that didn't stop Tikka from befriending dogs. After Tikka's operation, he was known for sneaking into our neighbors' yards and playing with their dogs. Tikka also liked to play with our dog, Stanley.(shown in picture) He did a good job raising him and to this day Stanley still washes his head like a cat.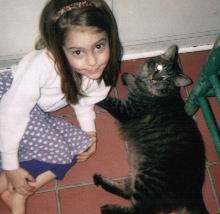 Tikka was the talk of our neighborhood. There was a group of ladies and young children that would stop by our house and wait for Tikka to appear. Suddenly, there would be Tikka springing out onto the sidewalk. He would then rush up our tree and stare back at them with his one eye shining in the sunlight. Once an old man and his old German shepherd were walking by our house and there was Tikka, throwing himself on the sidewalk in front of them. The old man gave such a hearty laugh we couldn't help but smile. Tikka was loved by all and he loved them.
Then one night Tikka went on one of his adventures and never came back. When we were looking for him, we realized how many people loved him and how many lives he had touched. We met and befriended neighbors we didn't know existed...who all had a Tikka story to share. I'll always remember Tikka and the joy and community he brought to our neighborhood.
Page created on 12/14/2004 12:00:00 AM
Last edited 12/14/2004 12:00:00 AM
The beliefs, viewpoints and opinions expressed in this hero submission on the website are those of the author and do not necessarily reflect the beliefs, viewpoints and opinions of The MY HERO Project and its staff.
Related Links
Pet Finders
- It is a directory of over 7,000 animal shelters and adoption organizations.
Humane Society
- Non-profit organizations that rescue and find homes for animals.
Crazy for Kitties
- A fun website for the cat lover.