"Adversity has the effect of eliciting talents, which in prosperous circumstances would have lain dormant." --Horace
Tomihiro Hoshino was a promising young gymnastics coach in Japan when a tragic accident changed his life forever. Prior to that fateful day, his hobbies had included gymnastics and mountain climbing, but little did he know that not only would his hobbies change, but he would become a worldwide hero in the process.
At age 24, while teaching a junior high gymnasts club how to perform a routine vaulting exercise, Tomihiro injured his neck so severely that he became paralyzed from the neck down. Admitted into Gunma University Hospital in 1970 where, ironically, he had graduated with a degree in physical education only a few months prior, Hoshino said that, initially, he found it so difficult, both physically and emotionally, that he felt at times he had lost the meaning to live. Complications from his condition, along with severe respiratory problems, both of which almost took his life on several occasions, made his hospital stay seemingly endless, totaling 9 years. But the constant support from his friends and family, along with his zest for life, kept him going, and by 1972, Hoshino found something that gave him hope and gave his life clear meaning once again -- painting.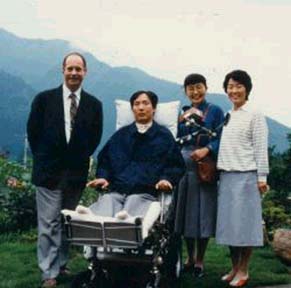 In an ironic twist of fate, a task as seemingly effortless to the average person as signing a fellow patient's canvas hat as a farewell gesture when the man was released from the hospital, became yet another painstakingly difficult task for Tomihiro. Yet with the help of his mother, they realized that he could sign it along with all his fellow patients, but in his own manner -- holding the paintbrush in his mouth! Though signing "Tomi" was a great challenge in itself, it would prove to be the first in an endless stream of masterpieces which Tomihiro would create.
Encouraged by the possibility of expressing himself in writing, albeit with his mouth rather than with his hands, Tomihiro began to practice daily. He would lie on his side holding the paintbrush in his mouth while his mother would hold the sketchbook inches from his face and mix the paints for him as he instructed. He practiced the alphabet and letters first, but could not create sentences, so, instead, he filled the blank pages of the notebook with flowers and scenes of nature.
It was no mere coincidence that Tomihiro painted flowers, as it was flowers which he said helped him find his place once again in the Universe. A friend had brought flowers to his hospital room, and he said that he gazed at those flowers so intently and with such deep meditation that soon he felt the flowers had become "bigger than him" and that God loved the flowers, things of such beauty, as much as He loved him. He said that when he couldn't sleep at night, he found peace in thinking that he and the flowers were in complete isolation in the Universe together. To Tomihiro, painting became a way of expressing his gratitude for his revelation. "I believed that if I depicted the things God had created honestly, as they actually are, I could without a doubt create beautiful pictures."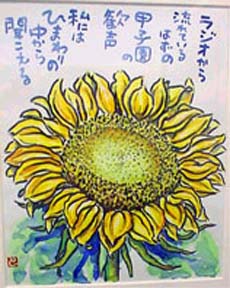 In 1974 he became a Christian and was baptized in the hospital, after he read a Bible passage which he felt spoke directly to him. He says that, paraphrased, it read: "It is ironic that it was only after I had an accident that prevented me from being able to walk through nature that I could fully appreciate its beauty."
By 1979, Tomihiro had created enough paintings to present a showcase of his work at a gallery. His first art exhibit was held that year in his hometown of Maebashi, Gunma Prefecture, at the Center for the Handicapped. There he successfully sold all the paintings he had created in the previous five years in the hospital. Later that year, Tomihiro finally was released from the hospital and returned to his hometown. He brought with him an electric wheelchair which he could operate with his chin.
He was married in 1981 to a woman by the name of Masako with whom he remains married to this day. When asked, she says that she does not feel burdened by Tomihiro's handicap, but that, instead, she feels blessed to have him in her life.
Tomihiro also mastered writing with his paintbrush, and accompanied his paintings with his poetry. His beautiful words filled with courage and a deep passion for life, inspire people in Japan and around the world. His poems speak of his love for nature, his gratitude and love for his mother and wife, and sometimes his inner emotional struggles as a human being.
His 1982-1990 exhibitions entitled, "Flora in Verse and Color by Tomihiro Hoshino," made quite a sensation all over Japan and hosted more than a million visitors. At the same time, several books compiling his artwork, essays, and poetry were published, including "From the Depths of Love," "Journey of the Wind," and "Silvery Trace." "Here So Close But I Didn't Know," and "Journey of the Wind" were published as English editions in 1988 for cultures worldwide to enjoy. Translators were highly impressed by his remarkable abilities and his beautiful words. Tomihiro Hoshino has currently authored seven titles, six of which have been translated into English. His books speak of his handicap, his time in the hospital and illness, and his discoveries in life.
On May 12th 1991, the Tomihiro Hoshino Museum was opened, and exhibitions have since toured worldwide. By 2000, visitors to Tomihiro Museum exceeded 3.5 million.
Tomihiro has also been the subject of Japanese films and some of his poetry has even been set to music and performed by choirs.
He has grown accustomed to his life as a disabled person and now says it is not as painful as people think it is. He has also learned to find humor in his condition and jokingly feels sorry for his friends when they become tired from walking his dogs with him, saying he feels bad because they have to walk. He also says that he enjoys the fact that he can stay in bed all day without anyone complaining about it.
Tomihiro has endured more physical hardship in his lifetime than the average person could even fathom, yet he has learned to overcome his unimaginable obstacles in a manner so brilliant and striking that anyone who encounters his art, poetry, and prose is left in awe. He has taken a seemingly unbearable burden and has made it a beautiful expression of the strength of the human spirit. Ironically, were it not for his tragedy and, thus, his life course being rerouted, neither he, nor the world, would likely have come to know his extraordinary talent and his beautiful mind.
Page created on 6/9/2004 10:39:23 AM
Last edited 1/4/2017 10:07:21 PM